– MANY DEAD IN PESHAWAR HOTEL BOMBING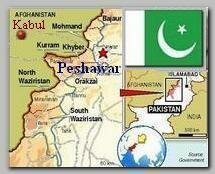 A suicide bomb attack on the luxury Pearl Continental Hotel in Peshawar, the capital of FATA region in North-West Pakistan, has killed 15 people and injured at least 60, on Tuesday 06/09/2009 evening.
Gunmen stormed the outer security barrier at the hotel before blowing up a vehicle containing, police say, 500kg of explosives. One foreign citizen – a UN employee – a Serbian UN refugee agency worker was killed and several were injured including a British man and a German national.
The attack came amide large scale ongoing fighting between Tehrik-e-Taleban and the PAKISTANI ARMY and an actual state of CIVIL WAR. Three men riding in a truck approached the main gate of the hotel and opened fire at security guards before driving inside, police official Liaqat Ali told AP, quoting witness accounts.
the luxury Pearl Continental Hotel is a symbol of Peshawar's contact with the rest of the world, a place where government officials and foreign dignitaries are accustomed to staying, has been attacked.
A devastating suicide bomb attack on the Islamabad Marriott hotel last September killed at least 53 people and injured more than 266 (see – Marriott Bombing ).
Fidayeen-e-Islam (those who scarify themselves for Islam) , a little-known ephemeral Pakistani militant group led by Hakimullah Mehsud, told the BBC it had carried out the attack with the aim of stopping USA interference in Pakistan.
* Relate topics – 
–
06/2009 -MOSQUE BLAST IN PAKISTAN KILLED DOZENS 
***************N***************
 Read more ;