– FOREIGN HOSTAGES KILLED IN YEMEN
–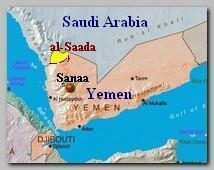 At least three foreign hostages seized in Yemen have been found dead, on Monday 06/14/2009, officials say.
They are thought to be from a group of nine foreigners, three of them children, who were kidnapped last week in a mountainous northern Saada area. There are conflicting reports from Yemen on exactly how many bodies have been found. One unconfirmed report says all nine hostages have been killed. Another report – also unconfirmed – quoted officials saying two children had been found alive.
The group comprised seven Germans, a British national and a South Korean. The kidnapped adults all worked at a hospital in Saada, the state news agency said. British and German government officials said on Monday they were investigating reports of the deaths.
No-one has claimed responsibility for the kidnapping, which Yemen blamed on a local Shiaa rebel group – the Saada Rebels.
More than 200 foreign nationals have been kidnapped in Yemen in the last 15 years, often for ransom. But most have been released unharmed.
* Relasted topics – 
–
12/2008 -3 GERMANS ABDUCTED IN YEMEN
***************N*****************
Read more ;