– KIRKUK SUICIDE BOMBING KILLED DOZENS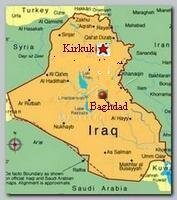 At least 75 people have been killed after a suicide bomber blew up a lorry loaded with explosives near a Shiaa Mosque in northern Iraq, on Saturday 06/20/2009 noon. Women and children were among the dead in the attack in the predominantly ethnic Turkmen town.
Another 180 people were wounded in the explosion, which took place as they were leaving noon prayers in the town of Taza, south of the disputed city of Kirkuk, police said.
Brigadier-General Sarhat Qader, a police official, said the Mosque and at least eight houses were demolished in the blast.
The Turkmen Front, Iraq's main Turkmen political party, announced three days of mourning and called for an "immediate investigation … and for the criminals to be brought to justice".
Kirkuk is plagued by tensions between its Kurdish, Turkmen and Arab communities, which prevented provincial elections from being held there on 01/31/2009. The attack came just days before US forces withdraw from urban areas on 06/30/2009. There was no immediate claim of responsibility for the attack.
* Adnan Jassim Ali al-Juburi, Walid Mahmoud Mohammed al-Hamdani and Jawad Falah al-Hamdani, all Muslim Sunni Iraqi citizens, were sentenced, on Tuesday 12/28/2004, to death by hanging for helping local Islamic militants to execute the attack. 

* Related topics – 
06/2009 -SENIOR IRAQI MP MURDERED IN BAGHDAD
06/2009 -SHIAA MILITANT LEADER AL-KHAZALI RELEASED
06/2009 -ALMOST 30 KILLED IN IRAQ
**************N**************
Read more ;