– BAHRAINI SHEIKH AL-MUQDAD ARRESTED
–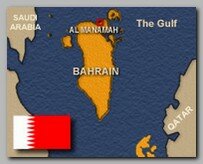 A pardoned Bahraini terror suspect Sheikh Mohammed Habib Al Muqdad was arrested at the Damascus airport as he tried to return home, on Wednesday 07/01/2009.
Sheikh Mohammed Al Muqdad, The Al Zahraa Orphans' Support Society president had arrived in Syria five days ago. His name apparently showed up on a list of people banned from travelling, on an immigration desk computer.
The trial of 35 men, including Sheikh Mohammed Al Muqdad, suspected of plotting terror attacks during Bahrain's National Day celebrations last year, was indefinitely suspended days after His Majesty King Hamad pardoned 178 Bahrainis.
Haq Movement for Liberties and Democracy chief Hassan Mushaima and media and international relations director Dr Abduljalil Al- Singace were among those pardoned.
The 12/17/2008 plot allegedly included ambushing policemen, destroying public property and attacking malls, markets and hotels with homemade explosives (see – BAHRAIN 12.27.08). The three political figures were accused of instigating people to change the political system by violent means, inciting hatred against the ruling system and financing and supporting a terrorist group. The Bahraini authorities claimed that some of the plotters were trained in Syria. 
.
* Related topics –
–
04/2009 -2 TERROR SUSPECTS ARRESTED IN BAHRAIN 
12/2008 -BAHRAIN FOILED TERROR ARRACK 
10/2008 -BAHRAINI TERROR SUSPECT APPEARED IN COURT
.
********************N********************
Read more ;
–