– GAZIANTEP RAID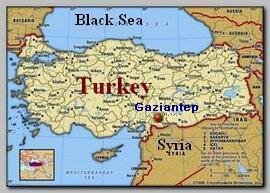 The Turkish police raided, on 01/24/2008, simultaneously, 18 houses in houses in the southern cities of Gaziantep and Kahramanmaras in an apparently crackdown on Islamic Militants. A stiff resistance triggered a 12-hour gun battle between dozens of policemen and an alleged local Al Qaeda leader, Mehmet Polat, 41, and his son. They killed a policeman and wounding five others before being killed themselves. 22 suspects were arrested during the operation, another three were detained in Istanbul.
The three Istanbul detainees were believed to have worked as couriers for the cell and included a Russian national of Chechen origin. Police in Gaziantep said they seized explosives and guns at the houses, adding that the group was preparing bomb attacks against "strategic targets" in South East Turkey. Prosecutors charged 17 of the 25 suspects captured in operations with membership in a terrorist organization the next day.
According to the Turkish police Mehmet Polat assumed the leadership of an Al Qaeda cell in Gaziantep after his predecessor, Mehmet Yýlmaz, joined the insurgency in Iraq and was killed there in 06/2007.
Mehmet Yýlmaz, also known as Khalid al-Turki, was under joined Turkish – American surveillance since 2004. He had operated a cell that facilitated the movement of foreign fighters into Iraq for al-Qaeda operations, USA officials in Iraq said.
Police sources said several of the suspects, including Mehmet Polat, underwent military training in Al Qaeda camps in Afghanistan before operation Absolute Justice, in 11/2001.
According to police sources, dozens of Turks have joined the ranks of Al Qaeda in Iraq and some others are allegedly members of Al Qaeda cells in Europe. One such suspect is Attila Selek, accused of being part of a plot to carry out massive bomb attacks on USA related targets in Germany last September.
In 2006 an administrative Turkish court overturned an order by the previous government to freeze the assets of Yasin al-Qadi, a Saudi businessman and reputed Al Qaeda financier, following the 9/11 attacks. But a higher administrative court, in 12/2007, later decided that even though the government did not appeal the decision, the assets of Yasin al-Qadi should remain frozen for the sake of the public good.
.
* Related topics – 
–

08/2007 -TURKEY  FLIGHT HIJACKED

TURKISH  HEZBOLLAH
.
*****************************
Read more ;
–