– 9 CECHEN POLICEMEN KILLED IN INGUSHETIA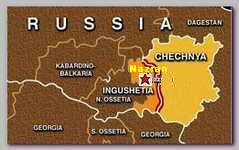 Up to nine Chechen police officers have been gunned down in the Russian region of Ingushetia, on Saturday 07/04/2009, Russian news agencies said.
The police officers died after their convoy came under attack in the city of Nazran , the Interfax news agency said, quoting security forces and the interior ministry.
"As a result of the attack, nine police from Chechnya were killed and nine more were badly wounded," Alexei Vorobyev, the head of Ingushetia's security council, said.
The Chechen police forces were in neighboring Ingushetia to conduct a joint special operation against alleged anti-government fighters, the term used for Islamic militants.
An Ingush official source told the RIA Novosti news agency that the attack on the convoy appeared to be a "well-planned ambush…It was fired upon from at least three different points with machine guns and grenade launchers," he said.
Concerns have grown in recent weeks about the stability of Ingushetia, one of Russia's most violent regions. Yunus-Bek Yevkurov, the Ingushetian leader, was gravely wounded when a suicide car bombing hit his armoured car on 06/22/2009, and he remains in hospital (see – Nazran 06.22.09).
amzan Kadyrov, Chechnya's Kremlin-backed leader,

harsh tactics have brought relative stability to Chechnya since he took power in 2007 after more than a decade of war, leading Moscow to declare an end to military operations in the republic in 04/2009 (see – DESERVE TO DIE).


Islamist fighters are battling pro-Kremlin authorities and Russian security forces in a low-level insurgency in the overwhelmingly Muslim regions of Chechnya, Dagestan and Ingushetia.
.
* Rlated topics –
–

11/1008 -4 KILLED IN CHECHNYA EXPLOSION

11/2008 -11 KILLED IN NORTH OSSETIA

05/2004 -KADYROV  ASSASSINATION
.
****************N**************
Read more ;
–