BBC News
– 15 SOLDIERS KILLED IN ALGERIA
–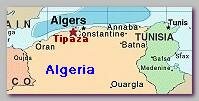 At least 15 soldiers have been killed, on Wednesday 07/29/2009 morning, in an ambush by alleged MAGHREB al-Qaeda, local media has reported.
According to El Watan newspaper, the soldiers were killed when their convoy was attacked in the Tipaza province, about 100km (60 miles) from the capital, Algiers. The paper said the convoy was first hit by roadside bombs, after which gunmen opened fire with automatic weapons. The death toll could rise as many of the injured were seriously wounded. Reports also suggested five militants died.
Algerian officials have not yet confirmed the reports.
Algeria has been fighting an insurgency for nearly two decades. Violence has increased in the past two months, with 18 paramilitary police killed in an ambush in east Algeria in June (see – Annaba 06.17.09).
* Related topics – 
–
07/2009 -DOZENS MALI SOLDIERS KILLED BY AFRICAN AL QAEDA 
02/2009 -9 KILLED IN ALGERIA
*************-N-***************
Read more ;