BBC News
– 18 POLICEMEN KILLED IN ALGERIA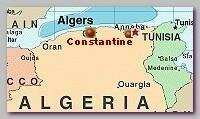 Armed Islamist from MAGHREB al-Qaeda ambushed a military convoy in Algeria and killed at least 18 policemen, on Wednesday 06/17/2009 evening. The convoy was on its way to Bordj Bou Arreridj, Southeast of Algiers, after escorting Chinese construction workers to a motorway project, when it came under fire, the sources said.
Two Algerian newspapers, however, reported 24 dead. One daily, Echourouk, conveyed that the attackers activated two roadside bombs and then opened fire on the gendarmes, killing them and then taking their arms and uniforms. The attack took place on the road from Constantine to Annaba.
The Islamic insurgents killed five paramilitary policemen late in May and a week later shot dead nine soldiers.
* Related topics –  
–
02/2009 -9 KILLED IN ALGERIA  
***************-N-*****************
Read more ;