Egypt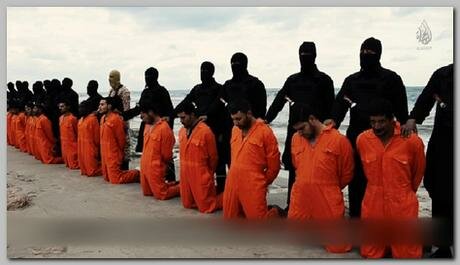 Egypt's military has said, on Monday 02/16/2015 morning, it carried out air strikes against Islamic State of Iraq and the Levant I.S.I.S targets in Libya, a day after the group released a video appearing to show the beheading of 21 Egyptian… Continue reading →
Egypt's Interior Minister Mohammed Ibrahim has survived, on Thursday 09/05/2013 at about 10:30, a bomb attack that targeted his convoy in Cairo.
Continue reading
Egyptian officials said, on Saturday 08/31/2013, they have foiled an attack on a container ship which was aimed at disrupting shipping in the busy, stratigic Suez Canal.
Continue reading
Since the EGYPTIAN III REVOLUTION, in early 07/2013, a new anti-Muslims Brotherhood coalition is formed in the Middle East to contain the Islamic threat.
Continue reading
A military coup supported by a coalition combined of all kinds of "Liberal" seculars and the Salafist Al-Nour party, against the elected president of Egypt Mohamed Morsi - dismissed the "Muslims Brotherhood" from power in Egypt, on Thursday 07/04/2013.
Continue reading
– 2 COPT BOYS CHARGED WITH BLASPHEMY IN EGYPT
Two Coptic Christian boys, ages 9 and 10, have been detained, on Sunday 09/30/2012, by the authorities on charges that they defiled the pages of a Koran. Continue reading
On 08/05/2012 at about 19:30, heavily armed masked gunmen dressed as Bedouin nomads opened fire on an Egyptian Police position near Rafah, Sinai Peninsula, with guns and rocket-propelled grenades, killing 16 Egyptian Border Police officers and commandeered 2 armored vehicle.
Continue reading
– MORE LIBYAN WEAPON SEIZED IN EGYPT
Egyptian security forces seized near the Libyan border, on Thursday 05/10/2012, dozens of heavy weapons allegedly bound for the Sinai Peninsula and Gaza Strip, a police official said. Continue reading
Egyptian security arrested 3 Iranians for allegedly plotting to kidnap and murder Saudi Arabia's ambassador to Cairo, a legal advisor at the Saudi embassy in Cairo said on 05/01/2012.
Continue reading
On Sunday 04/21/2012, Israeli naval forces intercepted a Liberian-flagged cargo ship that was headed from Libya to Gaza. Naval Commandos boarded the vessel for a "security check," military sources said.
Continue reading