– 21 EGYPTIAN COPTS BEHEADED IN LIBYA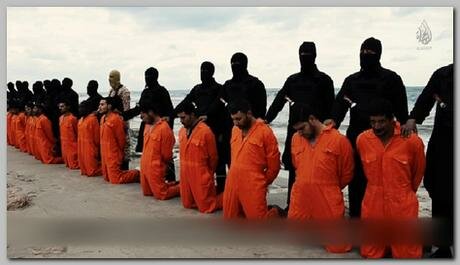 Egypt's military has said, on Monday 02/16/2015 morning, it carried out air strikes against Islamic State of Iraq and the Levant I.S.I.S targets in Libya, a day after the group released a video appearing to show the beheading of 21 Egyptian Christian Copts there.
The attacks focused on ISIS camps, training sites and weapons storage areas across Egypt's border in Libya, where armed groups have thrived amid chaos.  We affirm that avenging Egyptian blood and retaliating against criminals and killers is a duty we must carry out." the statement said.
Libyan war planes loyal to the official government also took part in the air strikes, bombing targets in the eastern town of Derna an official said on Monday 16/02/2015.  
Fighters pledging allegiance to I.S.I.S released, on Sunday 02/15/2015, a video purporting to show the beheading of 21 Egyptian Coptic Christians  kidnapped in  Sirte,  Libya.
The Egyptian government and the Coptic Church confirmed the authenticity of the footage, which showed the Egyptian workers, all wearing orange jump suits, being beheaded near a waterfront said to be located in the Libyan province of Tripoli.
The men were seized in two attacks in 12/2014 and 01/2015 from the coastal town of Sirte in eastern Libya. In the wake of the video release, Egyptian President Abdel Fattah el-Sisi called for an urgent meeting of Egypt's top national security team and declared seven days of mourning.  
Al-Azhar, the prestigious Cairo-based seat of Islamic learning, denounced the "barbaric" killings. "Al-Azhar stresses that such barbaric action has nothing to do with any religion or human values," it said in a statement.  
The video comes less than two weeks after ISIL released a video showing the burning alive of a Jordanian pilot, Muath al-Kasaesbeh, it captured after his plane went down in Syria in 12/2014.
Related topics: 
09/2013 – 11 EGYPTIAN PERSONNEL KILLED BY SUICIDE BOMBERS
04/2013 – FRENCH EMBASSY IN LIBYA ATTACKED
03/2011 – COPTS KILLED IN "DEMOCRATIC" EGYPT
2011 – ANSAR AL-SHARIA IN LIBYA 
*****************************
Read more ;
AL-JAZEERA
AL-ARABIYA
THERIGHTSCOOP.