Cristians cleansing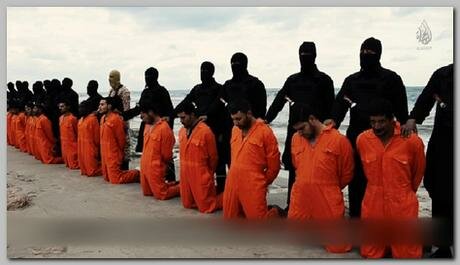 Egypt's military has said, on Monday 02/16/2015 morning, it carried out air strikes against Islamic State of Iraq and the Levant I.S.I.S targets in Libya, a day after the group released a video appearing to show the beheading of 21 Egyptian… Continue reading →
– 2 COPT BOYS CHARGED WITH BLASPHEMY IN EGYPT
Two Coptic Christian boys, ages 9 and 10, have been detained, on Sunday 09/30/2012, by the authorities on charges that they defiled the pages of a Koran. Continue reading
Seventeen people have been killed, on Sunday 07/01/2012, in attacks on churches in the Kenyan town of Garissa near Somalia, the Kenyan Red Cross and a medical official said.
Continue reading
– 25 KILLED AS CHURCHES ATTACKED IN NIGERIA
At least 25 people have been killed by an explosion, on Sunday 12/25/2011, outside a church near the Nigerian capital Abuja during Christmas celebrations, according to a relief worker. Continue reading
– 'ARAB SPRING' NOT FOR CHRISTIANS !!
Egypt's PM Essam Sharaf has appealed, on Sunday 10/09/2011 night, for calm after 24 people were killed as clashes between Coptic Christians and security forces escalated. Continue reading
A suspected suicide bomber, on Sunday 09/25/2011, has detonated explosives in a church in Indonesia's central Java, injuring at least 20 people, according to an Indonesian radio station.
Continue reading
– MEAS"T CHRISTIANS
On Tuesday 06/14/2011, the Archbishop of Canterbury has warned that there are extreme forces at work that have turned the Arab Spring into a "very anxious time" for Christians. Continue reading
– CONVICTED OF BLASPHEMY AND DIED IN PRISON
Qamar David, a Christian convicted of blasphemy in Pakistan has died in mysterious circumstances in a jail in the southern city of Karachi, police said on Tuesday 03/15/2011. Continue reading
– COPTS KILLED IN "DEMOCRATIC" EGYPT
At least 10 has died in clashes between Coptic Christians and Muslims in a suburb of Cairo, Egyptian officials said on Tuesday 03/08/2011 evening. Continue reading
– IRAQ'S AL QAEDA ORDERED ATTACKS ON CHRISTIANS
Al-Qaeda in Iraq had instructed its fighter to attack Egypt's Coptic Christians two weeks before a Church was blown up in Alexandria, on 01/01/2011 killing 22 people. Continue reading