BBC News
– EXPLOSION ROCKED KABUL
Published
August 15, 2009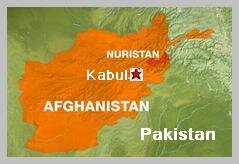 Just 5 days before the general elections in Afghanistan, a suicide car bomb has exploded outside the NATO-ISAF headquarters in Kabul, on Saturday 08/15/2009, morning, killing at least 9 people and wounding at least 90, Afghan officials say.
A plume of smoke was seen rising above the area, where the presidential palace and embassies are also located.
Taliban insurgents have vowed to disrupt the elections and have stepped up their attacks in recent weeks. The blast rocked Kabul's heavily fortified area.
Sirens blared as police and ambulances rushed to the area which was sealed off by international forces.
.
* Related topics –  
–
08/2009 -WINNING  STRATEGY FOR AFGHANISTAN   
08/2009 -NEW "WINNING STRATEGY" IN AFGHANISTAN  
.
************N************
Read more ;
–