– 18 SECURITY PERSONNEL KILLED IN PAKISTAN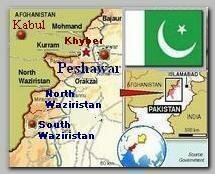 At least 18 people have been killed, on Thursday 08/27/2009 evening, in a suicide bombing in Pakistan, near its border with Afghanistan, government officials have said.
The victims were security personnel gathering for a meal to end the daily fast during the Muslim month of Ramadan, a government official in Jamrud, the main town in the Khyber region, the main NATO-ISAF supply route (see – Khyber 03.19.09), told the Reuters news agency.
The suicide bomber entered the barracks of a paramilitary force in the Khyber district on foot and blew himself up, the official said on Thursday.
The Torkham checkpoint, where the attack took place, marks the main border crossing from the Khyber Pass into Afghanistan.
.
* Related topics –
–
08/2009 -TERROR PLOTS UNCOVERED IN KARACHI,  PAKISTAN 
08/2009 =HAKIMULLAH ELECTED AS NEW TALIBAN CHIEF
08/2009 -SIPAH-E-SAHABA LEADER ALAMMA HAIDERI ASSASSINATED
.
***********N************
Read more ;
–