– PHILIPPINES FAILED TO ARREST MILITANT COMMANDERS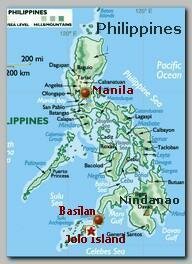 The Pilipino army failed, on Sunday 09/20/2009, to arrest 3 Abu Sayyaf commanders, Isnilon Hapilon, Albader Parad and Umbra Jumdail in a raid in the Southern Philippines island of Jolo. 
The raid was conducted after Pilipino intelligence reports showed that 40 men under Isnilon Hapilon arrived on Jolo on Saturday 09/19/2009 night from nearby Basilan Island. Hundreds of soldiers, supported by OV-10 Bronco planes, fought for more than six hours on Sunday to dislodge about 200 Abu Sayyaf rebels from fortified hills near Indanan town on Jolo,
The gun battle erupted when the army cordoned off a village on Jolo Island and moved in to take the three Abu Sayyaf commanders into custody, major general Benjamin Dolorfino said, on Monday 09/21/2009.
"Sadly, they put up a fight, so the situation escalated," Dolorfino said, adding that an estimated 220 fighters in the village fought to prevent the arrests. The army then called an airstrike.
Pilipino intelligence sources claimed at least 17 rebels were killed – although only one body was recovered. Five government soldiers were wounded.
The rebel commanders, Isnilon Hapilon, Albader Parad and Umbra Jumdail, are wanted by Washington and Manila on kidnapping and murder charges. The battle occurred few days after USA Special Forces in Jolo were engaged in a shootout after a bomb exploded near their convoy, which resulted to damages to a mosque and facilities near by. According to local witnesses the incident took place on 09/14/2009. It seems that there is a linkage between the two events. 
The US had offered a $5 million reward for Hapilon, who was indicted in the USA for alleged involvement in terrorist acts against Americans and others in the Philippines, as well as lesser rewards for the capture of the two other commanders. 
.
* Related topics – 
–
08/2009 -RAJAH SULAIMAN LEADER ABU JIHAD ARRESTED
.
**********N**********
Read more ;
–