– TAYMULLAH AL-SOMALI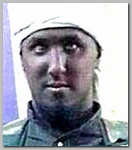 * Taymullah al-Somali, a Dutch national and  blind jihadist pictured fighting alongside I.S.I.S militants in Syria has reportedly urged others to join the Islamist militants, saying having a disability is no excuse.
Taymullah al-Somali is believed to have travelled to the Middle East earlier in 2014, has been photographed numerous times alongside I.S.I.S militants, in late 07/2014.  and is believed to be based in the capital of the self-declared caliphate, Raqqa.
The Somalia-born militant has been quoted on known Islamist social media accounts urging Muslims to join ISIS, reportedly saying: 'Being blind didn't stop me from coming to Syria, what's your excuse?'
Numerous images of al-Somali have recently emerged, showing him posing alongside an international group of jihadists – including at least two from Belgium, one of whom is reportedly named Hicham Chaib.
One of those retweeting images of al-Somali is Abu Uthmaan al-Britanni, who is understood to be a 24-year-old former shop worker from Britain who travelled to Syria from the town of Portsmouth.
Although Taymullah al-Somali's true identity cannot be be confirmed, at least one Islamist website named him as Bashir Abu Muaadh, who arrived in the Netherlands ( Holland ) as a child in the early 1990s.
Related topics : 
2015 – WESTERN JIHADISTS  
04/2013 -THREAT TO THE WEST  
12/2010 – 12 SOMALIS ARRESTED IN HOLLAND OVER TERROR 
09/2010 –  TERROR SUSPECT ARRESTED IN SCHIPHOL
************************* 
Read more ;