BBC News
– 2015 – PAKISTAN'S SHIA MOSQUES BOMBINGS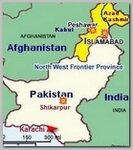 On 02/14/2015 At least 20 people killed and 65 injured in Pakistani Taliban attack on Shiaa Mosque in Peshawar, Pakistan.

Two weeks earlier an explosion, on Friday 01/30/2015, at a Shia Mosque in Pakistan's southern city of Shikarpur, Sindh province has killed at least 35 people and left dozens more wounded, officials said. the explosion occurred just before Friday prayers were due to begin, as a crowd was gathered outside the Mosque.
The mosque is in the centre of Shikarpur city, which is home to about 150,000 people, around 500km north of the port city of Karachi.Friday's explosion is the second attack on a Shia Mosque since Pakistani security forces stepped up operations against the Pakistani Taliban and its allies following the December attack on a Peshawar school.
In a previous attack, seven people were killed when a Shia Mosque in the city of Rawalpindi was targeted in a suicide bombing on 01/10/2015.
Related topics :
06/2011 – 21 KILLED IN BAGHDAD SHIAA NEIGHBORHOOD  
11/2010 – 74 KILLED IN PESHAWAR DOUBLE MOSQUE ATTACKS  
08/2010 – 2 KILLED IN SUNNI-SHIAA CLASH IN BEIRUT  
05/2009 – IRAN MOSQUE BOMBING KILLED 25
2008 – PAKISTAN'S SECTERIAN VIOLENCE – 2002-8  
 **************************
Read more ; 
AL-JAZEERA
BBC NEWS
MORE AL-JAZEERA