– SWAT VALLEY – MAULANA FAZLULLAH 'RADIO'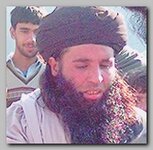 Swat district in NWFP, about 150 km North East of Peshawar, is one of the most strategic areas in Pakistan. Swat is on the Eastern side of the historical strategic Khybar pass, the mountain cross between China and Afghanistan and creates a territorial continuity between the tribes region of Waziristan in the South West and Kashmir in the North East.
Imam Dheri village in Swat district is for many  years the power base of Maulana  Fazlullah,  the acting leader of a Taliban-affiliated militia Tehreek Nifaz Shariat-e-Muhammadi – TNSM (can be translated – Movement for Implementation of Mohammad's Sharia Law), banned in Pakistan. The spiritual leader Maulana Sufi  Mohammad is kept in PAKISTANI jail.
Following the arrest of Sufi Mohammad , in early 2002, his son-in-law Maulana  Fazlullah began to run – TNSM he established his own Radio station and therefore got the nickname Fazlullah Radio.  After the devastating earthquake that hit the region on 10/08/2005, TNSM followers capitalized on the incident and used it to revive TNSM. There was a strong and growing belief among the people of Swat and Malakand districts that the earthquake was punishment for their misdeeds. Remnants of the TNSM have been encouraging them to burn their valuable electronic equipment in order to avoid the sinful life and prevent further retribution.
Thousands of TNSM supporters crossed the border to assist the Taliban in Afghanistan since the late 80s'. Maulana  Fazlullah's Madrassa (Islamic school) in nearby Chinagai village was bombed by USA missile attack in 06/2006 after PAKISTANI intelligence – ISI, handed over information that the Chinagai Madrassa  was used for brainwashing potential suicide bombers to carry out the 'holy' missions wherever required.  Maulana  Fazlullah's brother and many of Chinagai Madrassa students were among the casualties.
In 01/2007 during a Pakistani health campaign to convince remote areas in Pakistan to allow their children to be immunized against polio, which disables many PAKISTANI children, Maulana  Fazlullah was quoted on his local FM channel telling his listeners the vaccination drive was "a conspiracy of the Jews and Christians to stunt the population growth of Muslims".
After the Lal Mosque crisis, in 07/2007, Maulana  Fazlullah was among the leaders who declared war on Pervez Musharraf's regime in the new PAKISTANI CIVIL WAR.
On 10/25/2007 a roadside bomb in Swat region killed 20 people, among them 17 soldiers. In response Pakistani army sent 2,500 paramilitary troops, backed by artillery and air raids, to gain control on the region and especially on Imam Dheri village.
After the nomination of Gen' Ashfaq Pervez Kiani as deputy Army chief two weeks ago, the Pakistani Army adopted a much more aggressive approach toward the pro-Taliban tribes in the country and on the border with Afghanistan (see – RESHUFFLE PAKISTAN ). The new aggressive tactic is implemented mainly through massive indiscriminate bombing and shelling of villages known as strongholds or bases for the Islamic pro-Taliban guerilla, regardless the civilian non-fighting population including women and children. 
Following the Swat-Crisis, in 05/2009, Maulana  Fazlullah managed to flee to Afghanistan. He was interviewed by phone to the BBC on Monday 11/16/2009 (see – Fazlullah Interview ).
In a video obtained by AFP news agency, of Friday 07/23/2010, Maulana  Fazlullah is shown talking to a group of people, whom he addresses as suicide bombers, telling them to target Pakistan's government and the military.
 Maulana  Fazlullah is also implicated with the attempt on Malala Yousafzai, on 10/09/2012.
* Maulana  Fazlullah, along with nine accomplices, was injured in an attack, carried out by a rival Taliban faction, in Nuristan province of Afghanistan on Tuesday 10/08/2013.
* The Tehrik-e-Taleban has announced, on 11/07/2013, they have elected Maulana Fazlullah as their new chief after the death of the previous leader Hakimullah Mehsud. The announcement may indicates a split between the Mehsud tribe in North and South Waziristan and the militants in Swat Valley.
* Related topics –
2005 -MILITANTS ARRESTED IN PAKISTAN 

11/2006 -42 PAKISTANI SOLDIERS KILLED IN A SUICIDE ATTACK 

05/2010 -TALIBAN BESIEGES AFGHAN POLICE

  
Read more ;