BBC News
– IBRAHIM AL-RUBAISH KILLED BY A DRONE IN YEMEN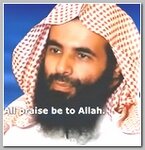 * Ibrahim al-Rubaish, a Saudi-national who has had a $5 million bounty on his head and a prominent leader for Al-Qaeda in the Arabian Peninsula – AQAP, based in Yemen, was killed in a UAV drone strike, on Sunday 04/12/2015, allegedly conducted by the USA , AFP reported Tuesday.
Ibrahim al-Rubaish, believed to be in his late 30s, was released from Guantanamo Bay in 2006, after which he joined al-Qaeda in Yemen. He was considered the group's the main ideologue and theological adviser and his writings and sermons were prominent in its publications.
In a statement al-Qaeda said ideological leader Ibrahim al-Rubaish and other militants were killed in a raid Monday, seeming to refer to a drone strike that killed six people in southeast Yemen. The US is the only country currently conducting drone strikes in Yemen, according to the AFP.
Ibrahim al-Rubaish, in 01/2015,  had accused France of becoming the top enemy of Islam above the USA – (see also the video footage of Sheikh  Harith al-Nadhari ) .
Related topics :
04/2014 – YEMEN'S CHAOS
03/2012 – YET ANOTHER SHIA-SUNNI WAR – YEMEN   
11/2010 -US DEPLOYED DRONES TO YEMEN
12/2009 – ANWAR AL-AWLAKI PRESUMABLY KILLED IN YEMEN
**************************
Read more ; 
« – 04/2015 – ISIS LOSSES & GAINS