– TWO ISLAMITS KILLED IN KASHMIR CLASHE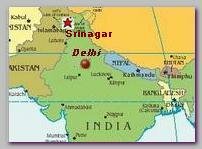 Security forces in India, stormed, on Wednesday 01/06/2010, a hotel in Srinagar, in Indian-administered Kashmir killing two gunmen and ending a stand-off that lasted almost 24 hours, officials said.  
The gunmen launched their grenade and gun attack in Srinagar on Wednesday killing a civilian and a policeman. They subsequently entered a hotel in the city's Lal Chowk area and exchanged fire with security forces (see also – Abdulla Uni).
This is the first major militant attack in Srinagar in two years. Violence there has declined in recent years. Officials said that one of the gunmen belonged to the banned Pakistan-based militant group Lashkar-e-Toiba but there has been no claim of responsibility for the attack so far.
The security forces also rescued 10 people from a neighboring hotel in what is a crowded business district in the city, our correspondent says.
India and Pakistan declared a ceasefire in 2004, but suspended peace talks after the 2008 Mumbai Carnage attacks, which India blamed on Pakistan-based militants. 
.
Separately, at least three Pakistani soldiers were killed and 11 injured in a suicide bombing outside an army barracks in Pakistani-administered Kashmir on Wednesday.
.
No group has claimed the attack near the town of Rawalakot. It follows a number of recent attacks on Shiaa Muslims and the security forces. 
.
* Related topics –  
–
08/2008 -KASHMIRI SHEIKH ABDUL AZIZ KILLED
.
**************************
Read more –
–