– ALGERIAN ARMY KILLED 10 MILITANTS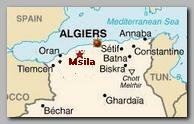 At least 10 suspected terrorists from MAGHREB al-Qaeda were killed, on Saturday 01/09/2010 night, in northeastern Algeria, the official Algerian news agency APS cited a security source as reporting.


These armed suspects were taking a utility vehicle in Slim, western part of northeastern Algerian province of M'sila, as they were caught in an ambush by the security forces acting on a tip-off, according to the source.
The source added that an "important quantity" of weapons have been seized during the operation. In December 2009, Algerian security forces killed four armed extremists in the same province. 
–
* Related topics – 
–
07/2009 -DOZENS MALI SOLDIERS KILLED BY AFRICAN AL QAEDA   
.
**************************
Read more –
–