– SAMIR AL-KHLIFAWI – HAJI BAKR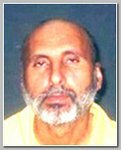 * Samir Abd Muhammad al-Khlifawi is a former colonel in the intelligence service of Saddam Hussein's air defense force who went by the pseudonym Haji Bakr.  Prior to the 2003 invasion of Iraq and overthrow of Saddam Hussein, Samir al-Khlifawi had been an Iraqi Army colonel who had worked on weapons development and in the intel services of Saddam's air defense corps.
Between 2006 to 2008 Haji Baker was reportedly in USA. detention facilities, in Camp Bucca  and Abu Ghraib prison alongside many of the men who would later form the senior leadership of I.S.I.S .
In 2010 Haji Bakr and a small group of former Iraqi intelligence officers supported and joined   Abu Bakr al-Baghdadi with the goal of giving the group a "religious face",according to the German Magazine 'Der Spiegel' on 04/20/2095.
In 2012 the magazine says, Haji Bakr traveled to northern Syria to oversee his takeover plan, choosing to launch it with a collection of foreign fighters that included novice militants from Saudi Arabia, Tunisia and Europe alongside battle-tested Chechens and Uzbeks.
Samir Abd Muhammad al-Khlifawi – Haji Bakr was reportedly killed in a firefight with Syrian rebels in January 2014, but not before he had helped secure swathes of Syria, which in turn strengthened Islamic State's position in neighboring Iraq.
Related topics :
03/2015 – THE CONFUSION OVER THE BATTLE OF TIKRIT  
09/2014 – ISIS CHAIN OF COMMAND 
09/2014 – U.S/NATO STRATEGY AGAINST ISIS 
PROFILE – IZZAT IBRAHIM EL-DOURI
*************************** 
Read more:
BUSINESSINSIDER
WIKIPEDIA -HAJI BAKR
DER SPIEGEL