– ABU BAKR AL-BAGHDADI
Ibrahim Awad al-Badri al-Samarrai is believed to have been born near Samarra (Samarrai – from Samarra), in 1971.  As a teenager he was a talented football player  playing for the team from the local Mosque. He was described as the 'Messi' making comparison with the Argentinean footballer Lionel Messi. 
 According to an alleged biography posted on jihadist internet forums in 07/2013, Al-Baghdadi obtained PhD degrees in Islamic studies from the Islamic University of Baghdad in Adhamiya, a suburb of Baghdad, known later as the Iraqi University. He is married to Syrian activist Saja al-Duleimi. 
 For more than a decade, until 2004, he lived in a room attached to a small local mosque in Tobchi, a poor and ramshackle neighbourhood of made up of Sunni and Shia Muslim residents on the western fringes of Baghdad.  Reports suggest that he was a cleric at the Imam Ahmad ibn Hanbal Mosque in Samarra at around the time of the USA invasion to Iraq in 04/2003.
 After the US invasion of Iraq Ibrahim Awad al-Samarrai helped to found the militant group, one of many, Jamaat Jaysh Ahl al-Sunnah wall-Jamaah (JJASJ), in which he served as head of the Sharia (Islamic law) committee.  According to US Department of Defense records, Abu Bakr Al-Baghdadi was held at Camp Bucca as a "civilian internee", a sort of protective detention, by US Forces-Iraq from February until December 2004, when he was recommended for an "unconditional release" by a Combined Review and Release Board.
 Abu Bakr was the first Islamic Caliph after Muhammad the prophet died in Mecca in 632. When Ibrahim al-Samarrai adopted the nom-de-guerre Abu Bakr Al-Baghdadi (from Baghdad) he. actually  indicated his direction and intention to form a new caliphate under his own dommination.
I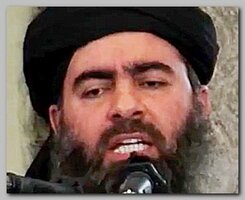 n 2006 Abu Bakr Al-Baghdadi and his group joined the broader  Mujahideen Shura Council – MSC, led by Abu Musab al Zarqawi,  renaming the MSC as the Islamic State of Iraq –  I.S.I, commonly known as Al Qaeda in Iraq.  Soon Al-Baghdadi became a member of the group's senior consultative council.
 Now known as  Abu Bakr Al-Baghdadi he became the head of the Islamic State of Iraq after his predecessor Abu Ayyub al-Masri was killed in 04/18/2010.
 As the new leader of the I.S.I, Al-Baghdadi was responsible for managing and directing large-scale operations against moderate Sunni figures and the Shiaa majority in Iraq.  Between 03/2011 and 04/2011, the beginning of the so called  2011, the I.S.I claimed 23 attacks south of Baghdad, all of which were alleged to have been carried out under Al-Baghdadi's command. The organisation became the leading insurgency group in Iraq fighting the pro-Shiaa Iraqi administration led by the pro-Iranian Nuri al-Maliki. I.S.I allied itself to Sunni tribes in Iraq that up to recently fought Al-Qaeda alongside with USA forces and were abandoned by the Americans as they withdrew their forces from Iraq (see – Awakening Council ).
Following the Abbottabad Raid, on 05/02/2011, that killed Osama Bin Laden, Al-Baghdadi released a statement threatening violent retaliation for his death. Indeed on 05/05/2011, Abu Bakr Al-Baghdadi claimed responsibility for an attack in Hilla that killed 24 policemen and wounded 72 others.
Since 10/2011 a reward is offered by U.S. government, which lists him as Abu Du'a: up to $10 million for information leading to his location.
In an audio distributed on the net, on 07/21/2012, Abu Bakr Al-Baghdadi made his first online statement (see – Statement – 07.21.12).  Al-Baghdadi claimed that the Islamic State is returning to the old strongholds from which it was driven by USA prior to the American withdrawal at the end of 2011, and that it is preparing operations to free prisoners and assassinate court officials. He invited Muslims to come to Iraq to join his movement and warned the United States that it would soon see militant attacks on its territory.
In 04/2013, Al-Baghdadi announced that his group had merged with Syria's Jabhat al-Nusra and announced the formation of the Islamic State of Iraq and the Levant (Sham in Arabic) -I.S.I.S.. Al-Nusra leader Abu Mohammed al-Jawlani acknowledged a relationship between the two groups, but he denied there had been a merger and publicly pledged his allegiance to Zawahiri (see also – SYRIAN DILEMA).
 But Ayman Al Zawahiri, now the new Al Qaeda leader ruled out  that the Islamic State of Iraq iI.S.I and al-Nusra should operate as separate entities, according to a letter released to Al-Jazeera. Al-Baghdadi had "made a mistake" by announcing a merger "without consulting us", he said.  It is assumed that the ambition of Abu Bakr Al-Baghdadi to establish a new Caliphate with him as the Caliph and the spiritual head of all Sunni Muslims is the heart of the controversy between Zawahiri and Al-Baghdadi. Zawahiri also opposes the stand of al-Bbaghdadi to brand the Shiites, all of them, "infidels" and to fight them rather than to focus the efforts on fighting the "Crusaders" – the Western powers (see also – Hassan Ghul's letters).
 Al-Baghdadi, however, dismissed al-Zawahiri's ruling and took control of a reported 80% of Jabhat al-Nusra's foreign fighters. In 01/2014, I.S.I.S expelled Jabhat al-Nusra from the Syrian city of Ar-Raqqah and Deir ez-Zor Governorate killed hundreds of fighters In 02/2014, Al-Qaeda disavowed any relations with I.S.I.S.
 According to several Western sources, Al-Baghdadi and I.S.I.S have received private financing from citizens in Saudi Arabia and Qatar and enlisted fighters through recruitment drives in Saudi Arabia in particular.
In a surprise attack on Mosul, in Northern Iraq, on 06/09/2014, I.S.I.S took over Mosul in a day and brought upon total collapse of the Iraqi Army who fled the battlefield leaving behind vast quantities of modern American weaponry. Within days I.S.I.S  took control on North-West Iraq from the Turkish border to the outskirts of Baghdad , a third of Iraq and Easter Syria along the Euphrates committing large scale atrocities  and mass executions against Shiites, Iraqi soldiers, Yazidi minority and Kurds (see also -I.S Command).
** According to the British Guardian, on 05/01/2015, more than two months after being injured in a US airstrike in north-western Iraq,  Abu Bakr al-Baghdadi remains incapacitated due to suspected spinal damage and is being treated by two doctors who travel to his hideout from the group's stronghold of Mosul. I.S.I.S is now being led by a long-term senior official, Abu Alaa al-Afri, who had been appointed deputy leader when his predecessor was killed by an air strike late last year.
**********************
 Read more ;