– ANIS ABID SARDAR – A BRITISH BOMBER IN IRAQ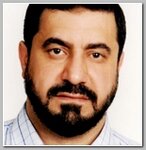 A British man,  Anis Abid Sardar, worked in 2007 on bombs planted in Iraq that claimed the life of a US soldier, a court has heard on 04/28/2015. .
Sergeant Randy Johnson, 34, was killed in an explosion near Baghdad in 2007, Woolwich Crown Court heard. The fingerprints of Anis Abid Sardar, from Wembley, north-west London, were allegedly found on two other bombs discovered at the scene.
Anis Abid Sardar, 38, denies murder, conspiracy to murder and conspiracy to cause an explosion. Prosecutor Max Hill QC told the court: "This is an unusual trial in that almost all of the evidence you will see and hear comes from Iraq. Mr Hill added that the bombs "were not off-the-shelf bombs, they were made with deadly intent".
They were later taken to an FBI laboratory in the US for examination by experts.
Fingerprints found on the bomb that killed Sgt Johnson belonged to another man, Sajjad Adnan, who worked with Anis Abid Sardar, the prosecution said.  Sagid Adnan, who is not British, was handed over to the Iraqi authorities after the bombings and his current whereabouts are unknown, Mr Hill said.
Jurors heard Anis Abid Sardar was part of a group that left a number of IEDs buried under the roads west of Baghdad.
Anis Abid Sardar claimed to have travelled to Syria in 2007 to learn Arabic,Police searching the property also found a bomb-making manual written in Arabic.  Anis Sardar has been convicted On 05/21/2015 as charged.
** British forces ended combat operations in 2009 and the US did so the following year. A total of 179 UK service personnel and nearly 4,500 US soldiers were killed during the conflict.
Related topics ;
04/2015 – 14 YEARS OLD JIHADIST DETAINED IN MANCHESTER 
04/2015 – TURKEY HELD BRITISH FAMILY HEADINTO ISIS  
03/2015 – 9 BRITISH STUDENTS 'HEADING' TO ISIS 
02/2015 – 3 MORE BRITISH TEEN GIRLS TRAVELED TO SYRIA
***********************
Read more ;