BBC News
– ABOUT 300 TEENS AND WOMEN RESCUED BY NIGERIAN ARMY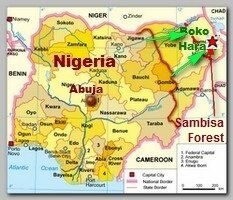 Nigerian troops have rescued 200 girls from Sambisa forest  the defence headquarters said Tuesday 04/28/2015. The girls were found Tuesday afternoon alongside 93 women who were also rescued, the military said.
The military however said it could not confirm whether the girls were students abducted more than a year ago from a secondary school in Chibok, Borno State.
"Troops captured and destroyed 3 terrorists camps including the notorious Boko Haram 's Tokumbere camp in the Sambisa Forest Operation. Military spokesman said.
The Chibok girls were abducted by Boko Haram militants on 04/14/2014.
–
* The Nigerian Army, on 05/01/2015, said it rescued from Sambisa Forest Another 234 women and children .
Related topics ;
03/2015 – BOKO HARAM PLEDGES ALLEGIANCE TO ISIS 
09/2013 -ABOUT 50 STUDENTS BUTCHERED BY JIHADISTS IN NIGERIA  
05/2013 – NIGERIA – THE NEW FRONT WITH JIHAD   
05/2012 – BOKO HARAM COMMANDER ARRESTED IN KANO
************************
Read more ; 
PREMIUMTIMES  
NEWSWEEK
BBC NEWS