BBC News
– 2 US SOLDIERS KILLED BY THEIR TRANSLATOR
Published
January 30, 2010
–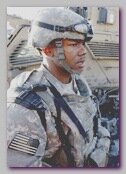 Two US soldiers who died in Afghanistan, on Friday 01/29/2010, were shot dead by a rogue interpreter, it has emerged.
A NATO-ISAF official said the translator gunned down the USA service members before he was killed himself at an outpost in Eastern Afghanistan. It is not yet clear what made the interpreter open fire on the US soldiers.
But a USA military official told Reuters news agency the attacker seemed to be a disgruntled employee, not a militant.
Five British soldiers were killed, on 11/02/2009, by a "rogue" Afghan policeman (see – Helmand 11.03.09 ) and, on 12/29/2009, another American soldier was killed by a fellow Afghan Soldiers (see – Baghdis 12.29.09 ).
* Related topics –
–
12/2009 – 8 CIA KILLED IN AFGHANISTAN 
PROFILE – HASSAN KARIM AKBAR
************************
Read more ;