– MALAYSIA TO EXTRADITE 9 MILITANTS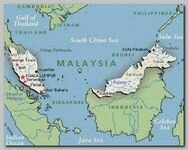 Malaysia will extradite 9 Muslim terror suspects to their home countries, an official said Thursday 02/18/2010.
The 9 were detained with a Malaysian last month because they were allegedly linked to an international terrorist network and posed a security threat. All 10 have been held under the Internal Security Act, which allows indefinite detention without trial (see – Malaya 01.27.10).
Malaysia plans to extradite the suspects soon, said a Home Ministry official, who spoke on condition of anonymity citing protocol. The Home Ministry has been tightlipped to reveal any details.
Activists have said four of the detained men are from Syria, one of them is Aiman al-Dakkak's son, Mohamed Hozifa, two are from Nigeria and one each from Yemen and Jordan. Jordanian and Syrian officials have confirmed the arrests.
Activists say police arrested the men with some 40 others while attending a weekly Islamic class with a Syrian university lecturer at a home near Kuala Lumpur on 01/21/2010 Most were later freed.
A senior Malaysian official has said the 10 were arrested to stem the growth of the hard-line Islamic Wahhabi sect often associated with Al Qaeda, as they are believed to be followers of the sect. He said the names of several of the foreigners also appeared on lists of terror suspects issued by various organizations and countries, including the United States.
Over the past 10 years, Malaysian authorities have detained more than 100 militant suspects. Most of them are alleged to be members of the Al Qaeda-linked Southeast Asian network INDONESIAN JI, which is blamed for such attacks as the 2002 bombing on the Indonesian island of Bali that killed 202 people.
Most were released after authorities said they were rehabilitated. None was ever charged.
.
* Related topics –  
–
10/2009 -AHFAM RAMADAN SURRENDERED IN INDONESIA 
.
**********************
Read more –
–