– 2 MORE TALIBAN COMMANDERS ARRESTED IN PAKISTAN
–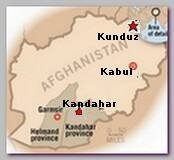 Officials in Afghanistan said, on Thursday 02/18/2010, two Taliban "shadow governors" Mullah Abdul Salam, of Kunduz and Mullah Mir Mohammad of Baghlan, in North-East Afghanistan, were arrested in Pakistan, almost simultaneously with Mullah Baradar, about 10 days ago. It is not clear whether Mullah Abdul Salam is the same commander who led the Taliban forces in Mussa Qala in 12/2007.   
Two Pakistani intelligence officials said Mullah Abdul Salam was arrested in the Pakistani city of Faisalabad. One of the officials said Salam's arrest was the result of information gleaned from Mullah Abdul Ghani Baradar.
Mullah Abdul Ghani Baradar and his unnamed comrades had disclosed information about their operations which would help unravel their organization and lead to more arrests.
Mullah Abdul Ghani Baradar, who is second only to its supreme leader Mullah Omar, was arrested, probably, on Monday 02/08/2010, along with several other militant figures, as they were establishing a new Taliban command and training centre in Pakistan's commercial capital.
Senior diplomatic sources said the movement's leadership was targeted as it moved from its base in Quetta, Balochistan, to Karachi.
Major General Athar Abbas, chief spokesman for the Pakistan Army, said it had carried out extensive checks to prove the man they arrested was Mullah Baradar, but declined to give further details of his arrest.
Senior government officials claimed both Mullah Baradar and those arrested with him were giving information they believed would lead to others in the Taliban's new Karachi and Sindh headquarters. They are understood to be in the custody of the country's ISI intelligence agency in the city.
He said they Taliban leadership had switched from Quetta to Karachi, a city of 16 million people, because it believed they would be harder to detect there. The timing and motivation behind Mullah Baradar's arrest was the subject of speculation last night amid claims he had been in contact with President Hamid Karzai in recent months and was in favour of peace talks (see – Karzai's Peace offer).
A spokesman for the Maldives government last night confirmed Taliban figures and Afghan government officials had met for talks on the islands shortly before last month's London Conference. The outcome of the talks is unclear (see – Way-Out 01.28.10).
Leading Washington-based Pakistan analyst Arif Rafiq suggested Islamabad had finally moved to arrest Mullah Baradar to win favor with the West so it would be able to influence the terms of a any new Afghan settlement following the troop surge (see – Moshtarak-Operation).
Islamabad wants to ensure it is seen as the guarantor of any deal so that Indian influence is minimized (see -The-Army) .
* In yet another development

a bomb has killed at least five people in a village cattle market in FATA, Khyber region of Pakistan, close to the Afghan border (see also – Khyber 02.10.10). Pakistani police also claimed to capture six terror suspects in the eastern Shahdara area of Lahore. Explosives, suicide jackets, grenades and jehadi literature were recovered from the arrested persons.


Investigations revealed that two of the arrested men, identified as Abdur Rehman and Muhammad Talha, are commanders of the Tehrik-e-Taleban Pakistan – TTP and fought security forces in the Charbagh area of the restive Swat District (see – Swat-Crisis). It is unclear whether the arrest is connected to the arrest of Abu-Waqas in Karachi.  
.
* Related topics – 
–
02/2010 -MEGA HOTEL ATTACK FOILED IN PAKISTAN  
.
**************************
Read more –
–