– MALAYSIA FREES 5 TERROR SUSPECTS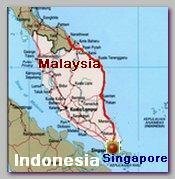 Malaysia, on Tuesday 09/15/2009, freed five terror suspects held for up to 7 1/2 years without trial under a strict security law that has been severely criticized by civil rights groups.
Home Minister Hishammuddin Hussein said the Malaysian men were released because they no longer presented a threat.
They were arrested under the Internal Security Act for alleged involvement in the INDONESIAN JI, an Al Qaeda linked regional militant network. Two of them have spent more than seven years in detention while the other three were held for more than two years.
Local detainees usually face conditions after their release, such as travel restrictions. Norlaila Othman, wife of Mat Sah Mohamad Satray, who was detained for seven years and three months for alleged involvement in the terror network, confirmed her husband was out of jail.
Nine people remain detained under the act, mainly for alleged links to militants and document forgery. Four of them are Malaysians, while the others are from Bangladesh, Indonesia, Pakistan, Singapore and Thailand.
Among them is Mas Selamat Kastari, Jemaah Islamiyah's alleged former Singapore commander, Agus Salim and several others who are believed to have had contact with him. 
.
* Related topics – 
–
.
***********-N-***********
Read more –
–
THESUNDAILY