– AL QAEDA FIGURE, HUSSEIN AL-YEMENI, PRESUMED DEAD
–
–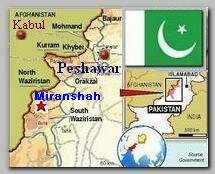 A key Al Qaeda figure from Yemen, Hussein Al-Yemeni, wanted for a deadly attack on a CIA base in Afghanistan, has been killed in a US UAV drone strike, on Wednesday 03/17/2010,  USA officials believe.
Hussein Al-Yemeni, a top al-Qaeda planner, died in the strike in the city of Miranshah, North Waziristan in Pakistan, they said.  He was believed to have helped plan an attack on a base in Khost on 12/30/2009 (Khost 12.30.09) in which a suicide bomber killed seven CIA agents and a Jordanian officer.  The CIA's director has said Al Qaeda is now in disarray in Pakistan.
A US counter-terrorism official told France-Presse news agency that the drone strike in Miranshah, in North Waziristan, was "a clean, precise action that shows these killers cannot hide even in relatively built-up places".  Yemeni was said to be in his late 20s or early 30s and specialized in "bombs and suicide operations", the official said. "He was a conduit in Pakistan for funds, messages and recruits," he said.
Hussein Al-Yemeni had contacts with Al-Qaeda in the Arabian Peninsula and Afghan and Pakistani Taliban groups, USA officials claim.
In an interview with the Washington Post on Wednesday, CIA Director Leon Panetta said attacks against Al Qaeda had left it unable to plan sophisticated operations. "It's pretty clear from all the intelligence we are getting that they are having a very difficult time putting together any kind of command and control, that they are scrambling. And that we really do have them on the run," Mr Panetta said (see also – What's going on).
He said that the attacks had been so effective that an Al Qaeda lieutenant had pleaded in an intercepted message to Osama Bin Laden that the Al Qaeda leader needed to come to provide some leadership.
Hundreds of people, including a number of militants, have been killed in scores of drone strikes since August 2008. Pakistan has publicly criticized the drone attacks, saying they fuel support for militants. 
.
* Related topics –  
–
02/2010 -MOHAMMED QARI ZAFAR KILLED IN PAKISTAN  
02/2010 -MOHAMMED HAQQANI KILLED IN PAKISTAN  
.
*************************
Read more ;
–
MALAYSIANMIRROR