– PAKISTANI STATE TV – HAKIMULLAH MEHSUD KILLED!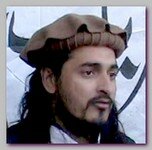 The head of the Tehrik-e-Taleban -TTP in Pakistan, Hakimullah Mehsud, has been killed in a US drone attack, on 01/17/2010, according to Pakistan state television, on Sunday 01/31/2010.
Hakimullah Mehsud is believed to have played a role in the suicide bombing of a CIA base in Afghanistan's eastern Khost province, on 12/30/2009 (see – Balawi's Footage). He managed to escape a missile attack, on 01/14/2010 (see – Pasalkot 01.14.10).  Two days after, on 01/16/2010, Hakimullah Mehsud issued an audio tape, denying he was killed in a USA UAV drone strike two days earlier. The reports also said Abdul Basit Usman, from the Philippines, was among those killed in the attack.
The state broadcaster – without giving any sources – said Hakimullah Mehsud had been buried in the village of Mamozai in North Waziristan. Officials said they had received unconfirmed reports that he may have died of wounds after a drone strike on two vehicles carrying militants in North Waziristan.
The militants group denied the fresh rumor Mehsud is dead, while the Pakistani army said it was investigating the reports. "Hakimullah is alive and safe. The purpose of stories regarding his death is to create differences among Taliban ranks" the militants said.
A sources in Aurakzai tribal region said, on Wednesday 02/03/2010, Hakimullah Mehsud's close aide Qari Hussain, the top trainer of suicide bombers and one of his potential successors, was killed in the same US drone attack that fatally injured him.
* TTP spokesman Azam Tariq confirmed, on Tuesday 02/09/2010, that Hakimullah Mehsud was, indeed, killed. The TTP has not named Hakimullah Mahsud's successor. However, the likeliest candidate appears to be Maulvi Noor Jamal, the Taliban's commander in Orakzai and the neighboring Kurram tribal region and reportedly a close ally of Hakimullah Mahsud.
* Eventually a top ISI official said, on Thursday 04/29/2010, that Hakimullah Mehsud escaped the attack and is
"alive and well
" (see – Hakimullah Confusion ).
* Related topics –
– 
01/2010 -SUICIDE BOMBER KILLED 12 IN PAKISTAN
01/2010 -NATO CONVOY ATTACKED IN KARACHI
01/2010 -KAMALUDDIN SAID KABUL ATTACK PREPARED IN PAKISTAN
******************************
Read more ;