– SHIA MOSQUE IN SAUDI ARABIA BOMBED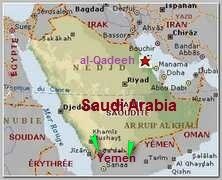 Up to 20  people were killed and dozens injured after a suicide bomber detonated explosives at a Shia Mosque, on Friday 05/22/2015,in the Saudi province of Qatif, according to news agencies.
The incident in the Imam Ali mosque,  in the village of al-Qadeeh,  which is located in the Qatif province, was confirmed by the kingdom's state news agency.
More details will be provided later, a spokesman for the Saudi interior ministry was quoted by SPA as saying.
Saudi Arabia is engaged in a regional war in the Middle East between Sunnis, led by Saudi Arabia,  and Shiites, led by Iran, and specifically against the Shia Houthis in Yemen (see – operation ' Decisive Storm' ).
* Few hours after the bombing  I.S.I.S, in  the first announcement by the Saudi branch of the organisation,   claimed responsibility for the attack.
* Indeed Saudi Arabia has confirmed, on Sunday 05/24/2015, an Islamic State militant, a Saudi citizen Saleh bin Abdulrahman Al-Qashaam, who was wanted for being an active member of an Islamic State-linked terrorist cell, carried out the bombing and that the explosive use in the bombing was a military-grade compound known as RDX.
Related topics ;
06/2015 – SAUDI IDENTIFIED BOMBER AND 16 OTHER MILITANTS 
03/2015 – YET ANOTHER SHIA-SUNNI WAR – YEMEN  
03/2015 – THE CONFUSION OVER THE BATTLE OF TIKRIT 
03/2012 – THE SHIITE ARC – MUSLIMS FRONT LINE 
2008 – ABYSS IN ISLAM 
***********************
Read more ;
ALBAWABA
AL-JAZEERA
RT.COM-NEWS
BBC NEWS
ALARABIYA
YNET-NEWS