BBC News
– IT SMELLS LIKE ISIS – TUNIS SHOOTING RAMPAGE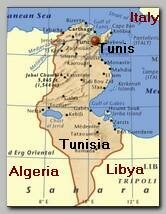 A Tunisian soldier, on Monday 05/25/2015 opened fire on colleagues at Bouchoucha barracks' a military base in the capital Tunis, killing an officer (Colonel) and six others and wounding 15 more before being shot dead himself, Tunisian authorities said.
"A soldier opened fire and killed seven others, he was then killed. Ten others are injured," army spokesman Bel Hassen Ouslati told reporters. "According to what we know, he had some family problems, this is nothing to do with a terrorist attack" he said.
But I.S.I.S claimed the next day, on 06/26/2015, responsibility for a deadly shooting. Through a post on Afriqiyah Media, a site often used by ISIS, and identified the shooter as Mehdi Jaami .
** Tunisians are the largest volunteers contingent in ISIS estimated as more than 9,000 fighters .
Related topics ;
03/2015 – 23 KILLED IN TUNIS BARDO MUSEUM ATTACK
03/2015 – TUNISIAN MILITANT AHMED ROUISSI KILLED IN LIBYA
03/2015 – ISLAMIC COUP FOILED IN TUNISIA
2013 -ANSAR AL-SHARIA IN TUNISIA
**************************
Read more ;
ALARABIYA
ALBAWABA
REUTERS-NEWS