– AFGHAN MP RELATIVE SHOT DEAD BY NATO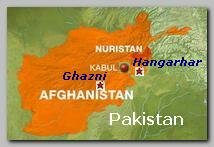 Safia Siddiqi, a prominent Afghan MP said, on Thursday 04/29/2010, NATO-ISAF troops stormed her home and shot dead one of her relatives in an overnight raid.
Safia Siddiqi, who was not home at the time, said the troops tied up several members of her family and opened fire on one of them. NATO confirmed one person was killed in an operation against a "Taliban facilitator" in eastern Afghanistan.
Safia Siddiqi said dozens of USA soldiers arrived without warning at her village home just before midnight. "My brothers thought they were thieves," she told the AFP news agency. "One of my relatives took a shotgun and walked out of the room. The troops shot him dead." She said the soldiers broke windows and furniture and tied her brothers' hands together.
The incident sparked angry protests from residents in Nangarhar province's Surkh Rod district. The deaths of Afghan civilians at the hands of foreign forces has caused public outrage, and been an increasing source of friction between NATO-ISAF and the Afghan government (see – Civilian war casulties).
In a statement, NATO confirmed international and Afghan troops had entered a compound in Surkh Rod "after intelligence information indicated militant activity". "During the operation an individual with a weapon was observed adjacent to one of the buildings. The security force repeatedly attempted to get the individual to lower his weapon by using hand signals, and verbal commands through their Afghan interpreter," the statement said.
Dozens of people carried the body into the streets on Thursday, shouting anti-US and anti-government slogans. NATO has admitted that its killing of civilians during operations has undermined support for its mission in Afghanistan (see – Garmsir 01.12.10), although it points out that far more people are killed in attacks by the Taliban and other militants (see -Kandahar 03.13.10).
The head of NATO and USa forces in Afghanistan, General Stanley McChrystal, has introduced changes to NATO tactics aimed at cutting the risks to civilians (see – McChrystal Report). Measures have included reducing the number of air strikes and night raids.
Meanwhile, also on Thursday,
The French army has admitted killing four civilians with a missile strike in a Taliban-controlled area of Afghanistan on 04/06/2010,when French soldiers fired a missile from a military base in Kapisa province after it came under attack from the Taliban (see also -Kapisa 12.30.09).
.
* Related topics – 
–
04/2010 -TALIBAN WANTS DETAINEES SWAP WITH FRANCE 
04/2010 -4 MORE GERMAN SOLDIERS KILLED IN AFGHANISTAN 
02/2010 -HAJI ZAMAN KILLED IN AFGHAN DEADLY BLAST
.
*************************
Read more ;
–