– HAKIMULLAH MEHSUD PROBABLY ALIVE!
–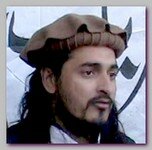 Hakimullah Mehsud, presumed dead since the US UAV missiles attack, on 01/17/2010, survived an American drone strike and is alive and well (see -Hakimullah 01.31.10), a senior official with Pakistan's Inter Services Intelligence – ISI agency told the Guardian today, Thursday 04/29/2010.
Although Pakistan's interior minister claimed he had been killed, the death was never confirmed by either USA or Pakistani intelligence.
A senior intelligence official said he had seen video footage of the missile attack on Hakinullah Mehsud but other intelligence had since confirmed the Tehrik-e-Taleban – TTP insurgent leader survived. "He is alive," said the official, who spoke on condition of anonymity. "He had some wounds but he is basically OK."
Mehsud's apparent survival will be a blow to the CIA, which facilitates also the Khost bombing in which 7 CIA officers were killed on 12/30/2009 (see – Khost 12.30.09). The CIA has carried out 38 attacks so far this year (2010), the official said, compared with 49 in the whole of 2009 (see also – Orakzai 04.10.10).
The Pakistani official estimated the civilian toll was "between the two figures" but insisted that targeting had improved. "For the Americans, this is an effective way of doing things from a distance with little collateral damage. I give full credit to the CIA for this."
The Washington Post reported this week that the CIA has started using nore compact UAV and smaller missiles. in an effort to reduce civilian casualties (see – MEAST MESS).
Hakimullah Mehsud's apparent survival represents a second miraculous escape in the career of a youthful, ruthless militant leader.
The Pakistani government previously reported that the flamboyant tribesman, thought to be about 30 years old, was killed during a leadership struggle last August (see – TTP-Crisis).
.Despite his remarkable good fortune, however, Hakimullah Mehsud's days as a Taliban leader may be numbered. According to a senior ISI official, his Tehrik-e-Taleban Pakistan organization has been weakened by a sweeping army assault on its South Waziristan stronghold (see -Waziristan-Offensive). Indeed the Islamic militant insurgency in Pakistan lost its focus on military and government targets and their attacks became much more sporadic and random, which indicates that Hakimullah Mehsud is either badly wounded or have difficulties in controlling the TTP operations. 
.
* Related topics –
–
04/2010 -PAKISTANI OFFICER ARRESTED IN KABUL FOR TERROR

04/2010 -SUICIDE BOMBER KILLED 23 IN PESHAWAR

04/2010 -
41 KILLED IN DOUBLE BOMBING IN KOHAT, PAKISTAN
************************
Read more ;
–