– DOZENS KILLED IN SERIES OF BOMBINGS IN AFGHANISTAN
–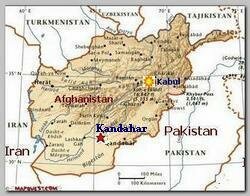 At least 35 people have been killed, on Saturday 03/13/2010 evening at about 20:00, after a series of explosions rocked the centre of the southern Afghan city of Kandahar, an interior ministry spokesman has said. Saturday's attacks also left 45 people, including policemen and civilians, injured.
Spokesman of the governor to the city of Kandahar said it appears to be a coordinate attack. One explosion happened near the police headquarters, the second one was heard near the provincial guest house in an area where also president Karzai's half brother Ahmad Wali Karzai lives. A third explosion was heard apparently next to Kandahar prison. Several old buildings near the prison have collapsed and there are fears that people may be trapped in the rubble.  Ahmad Wali Karzai is suspected by many as a drug baron, on the CIA-Payroll, and a symbol to the Afghani corrupted regime. He was already a subject to an attempt on his life on 05/18/2009 (see –  Karzai 05.18.09).


Kandahar is Afghanistan's third biggest city, after Kabul and Herat, and was the spiritual capital of the Taliban, who ruled Afghanistan from 1996 until their overthrow in the 2001 US-led invasion, operation Absolute Justice.
Earlier on Saturday a roadside bomb killed six people travelling in a civilian vehicle in the capital of Uruzgan province in central Afghanistan. According to some intelligence sources 2 of the fatalities were "foreign soldiers".
Remnants of the movement have regrouped to wage an increasingly deadly insurgency, which last year (2009) killed more than 500 foreign soldiers. According to the USA army command in Afghanistan Kandahar is the next project of the USA anti-Taliban offensive after the current Moshtarak-Operation (see -Buds Of Success). 
.
* Related topics –  
–
03/2010 -12 KILLED IN ROADSIDE BOMBS IN AFGHANISTAN  
.
******************************
Read more ;
–