– MILITANTS IN EGYPT STEP UP THEIR ECONOMIC CAMPAIGN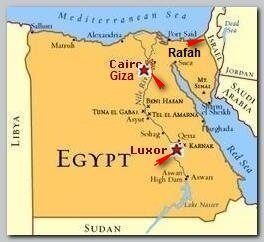 A suicide bomber, on Wednesday 06/10/2015, blew himself up near Egypt's ancient Karnak temple in the southern city of Luxor, security sources said, a possible sign that militants are shifting focus to target the country's economic recovery that is based largely on tourism.  .
On 06/03/2015 an Egyptian [policeman was shot dead near the Giza Pyramids, South to Cairo and the most visited tourist site in Egypt.
Although officials said no tourists were wounded, the attack at Karnak is the second in just over a week on a major tourist site in Egypt, where tourism is a vital source of income and foreign currency.
There was no immediate claim of responsibility for the attack, which revived memories of 1997 when Islamist militants killed 58 tourists and four Egyptians at another temple nearby.
The latest violence will hamper Egypt's efforts to win back tourists and foreign investors who only recently welcomed Sisi's economic reforms such as slashing fuel subsidies.
Separately, security sources said two small roadside bombs were discovered by security forces in the Cairo area, while a soldier was killed by gunmen in the North Sinai town of Rafah, bordering Israel and the Gaza Strip, according to security and medical sources.
Related topics ; 
04/2015 – 69 IN EGYPT TO PRISON LIFETIME FOR CHURCH ARSON ATTACK   
04/2015 – 17 EGYPTIAN KILLED IN SINAI RAMPAGE  
02/2015 – 21 EGYPTIAN COPTS BEHEADED IN LIBYA  
09/2013 – EGYPT FOILED ATTACK ON SHIPS IN THE SUEZ CANAL
********************
Read more ;