– THE JIHADI JUNCTIONS TO EUROPE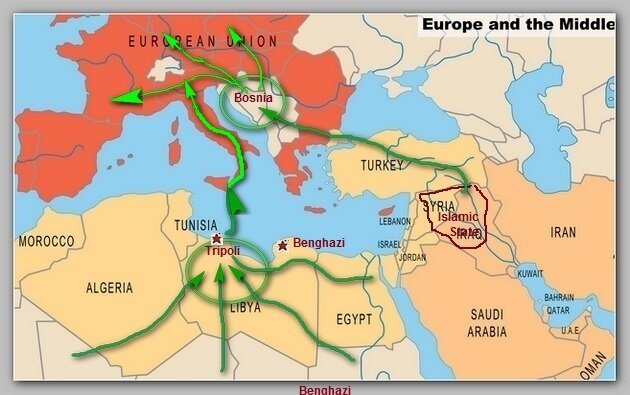 A . – The Balkan Junction – British jihadis recruited by Islamic State are using land routes run by human traffickers to travel unnoticed via the Balkans and Turkey to fight in Syria – and to slip back into Europe and the UK  Experts warn this means there is no check or record of the fighter travelling across Europe – a journey that can take weeks – and over the Turkish border or, crucially, making the journey home.
EU Border chiefs have warned unprecedented numbers of migrants are making their way to Europe by trekking overland through the Balkans to avoid the dangers of crossing the Mediterranean.
The number of detected illegal entries in the Western Balkans region soared by 65% in 2014 – to 66,000 from 40,000 the year before (2013) , according to Frontex the EU's Border agency.
The emergence of the Balkans as a key transit routes comes amid warnings that the UK is facing a 'growing threat' of chemical attack from fighters returning from the Middle East where they have learnt to make bombs laced with the kind of chlorine contained in the back of every household fridge.
–
B. – The Libyan Junction –  Hundreds thousands enter Europe via Libya and Italy through the Mediterranean and  with few hundreds or thousands of ISIS supporters assimilated in the huge flow of immigrants, most of them Muslims, from Africa and Middle Eastern countries to Europe
Christians from Africa who try to smuggle their way to Europe suffer from hostility , persecution and risking all kinds of brutality. Christians were kidnapped and beheaded by the Islamic State in Libya, Just yesterday, 06/09/2015, 86 Christians from Eritrea were abducted by local I,S,I,S fighters near Tripoli, Western Libya and face uncertainty, probably a brutal execution.
Italian police have arrested, on 04/16/2015, 15 Muslim migrants in Palermo, Italy, for allegedly having thrown Christian refugees off the rubber boat that was taking them to Italy after a fight for "religious reasons", according to media reports.04/2015 .
–
the current number of immigrants via Libya  is estimated as 4,000 a day, over 1.2 Million a year. Although 99% are innocent poor people seeking to improve their live –  the 1% left (12,000) is more then enough to create a serious terror threat to Europe in edition to the thousands comming to Europe from the battlefields in the Middle East.
Related topics :
06/2015 -BALKAN – THE NEXT STAGE OF ISIS ?  
04/2015 – EUROPE HAS LONG IGNORED DANGERS OF ISLAMIC TERROR 
11/2011 – EUROPEAN CULTURAL ISLAMIC CONFLICT  
03/2010 – EUROPE FEARS ISLAMISM
************************
Read more ;