– IMAM NAZIM ABU SALIM – SHIHAB A-DIN MOSQUE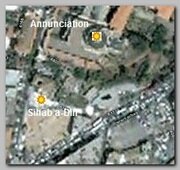 Imam Nazim Abu Salim, born in 1967, is the head of the controversial Shihab A-Din Mosque in center of Nazareth, just about 100 meters South to the Church of Annunciation, holy to all Christians in the world. In the 90s' the Muslims in Nazareth were planning to build a Mosque on the name of one of Salah a-Din relatives and military commanders Shihab A-Din , higher and bigger than the Church of Annunciation. The plan was abolished by Israel in early 2002 after a strong pressure from the Vatican and the Pope himself. The old existing small Mosque operates for centuries in the location became a center for Islamic radicalization and resentment toward Israel and Christianity and a source of tension between Muslims and Christians ISRAELI ARABS in Nazareth and the Galilee.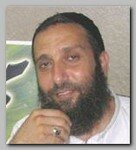 Already from the late 90s' Imam Nazim Abu Salim used to gather around him a group of young devoted Muslims whom he taught the Salafi way of life (see – Salafiya) and the radical Jihadi interpretation of the Kuran. He also established, via the internet, connections with other radical Imams all over the Muslim World.  
In 01/2010, Imam Nazim Abu Salim, in the website MUSLIM48, he wrote in Arabic addressing the shariaa committee of Abu Muhammad al-Maqdisi –  "The group is known… for its loyalty to the religion of Allah and to Muslims. Their Sheikh, Nazim Abu Salim… is known for his views… regarding the need to defend Al-Aqsa…. and the group's writings and announcements, as reflected on its website, indicate that the group is grounded in the path of the righteous ancestors… [The group's] members strive to implement the shariaa throughout the world under the sovereignty of the Caliphate… and [it is clear] that they [reject] the tyrannical manmade law, that they proclaim takfir against legislative councils… that they reject the polytheist secular democracy and the rest of the contemporary apostate religions to which Allah has given no sovereignty. They show loyalty [only] to the believers and the mujahideen…." 
In 04/2009 Imam Nazim Abu Salim led the opposition against the visit of the Pope in Nazareth. 
The Israeli security service Shin.Bet arrested, in 04/2010, the Nazareth Cell, a cell of 7 from the

Shihab A-Din Mosque

's

congregation

, who committed terror attacks in Nazareth and were inspired by the Global Jihad.  
Imam Nazim Abu Salim

 

and another Israeli-Arab suspected of

forming an illegal organization, conspiring to commit a crime and supporting a terror organization,

were arrested by the Israeli police, on Wednesday 10/06/2010. 
*Imam Nazim Abu Salim was convicted in Nazareth District Court, on Sunday 04/01/2012, with incitment and supporting a terror organization. He was sentenced, on Tuesday 09/11/2012, to 3 years in jail.


* Related topics –  
**************************
 Read more ;
ISRINFO