11 POLICMEN KILLED IN ALGERIA
11 POLICMEN KILLED IN ALGERIA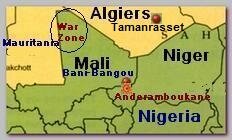 An ambush by MAGHREB al-Qaeda fighters in the Sahara desert near Algeria's southern border with Mali has left 11 paramilitary police dead, an Algerian security official has said on Thursday 07/01/2010..
According to the Algerian newspaper El Watan, the attack took place at dawn, on Wednesday 06/30/2010, near the town of Tinzaoutine, about 2,000 km south of the capital Algiers.
The fighters used mortars and grenades to strike the police convoy as they passed by on patrol, the daily said. The attack was the deadliest in a series of incidents this year.
A security official in the Malian capital Bamako confirmed the ambush, adding that the fighters had taken two police prisoner, one of whom was later released to authorities with news of his comrade's deaths.
The Sahara region has in recent years seen a dramatic increase in the activities of fighters linked to MAGHREB al-Qaeda (AQIM), which has claimed several attacks against foreigners.
Security experts say Al Qaeda is building a base in the desert region that straddles the borders of Algeria, Mali, Mauritania and Niger where its exploits the porous borders, patchy security and networks of drug traffickers.
Last week the Algerian government announced a new strategy in coordination with neighboring countries to confront what it described as "trans-Sahara terrorism" (see – MAGHREB Alliance).
Believed to number around 300 fighters, its influence spans large parts of north and west Africa and it has raked in millions of dollars from ransoms (see- MAQ 01.30.10).
* Related topics –









12/2009 -AL QAEDA KIDNAPPED ITALIAN COUPLE






12/2009 -MAGHREB AL QAEDA KIDNAPPED 4 EUROPEANS 
*************************
Read more
BBC NEWS