BODIES OF 10 MEDICAL STAFF FOUND IN AFGHANISTAN
BODIES OF 10 MEDICAL STAFF FOUND IN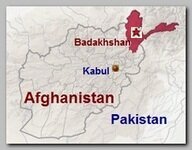 The bodies of 10 people, including eight foreigners, including 6 Americans, a German and a British citizen, have been recovered, on Friday 08/06/2010, in a remote area of Badakhshan province in Northern Afghanistan. They were employed by the International Assistance Mission .
Provincial police chief General Agha Noor Kemtuz said the victims, who had been shot, were found on Friday next to three bullet-riddled four-wheeled drive vehicles in Kuran Wa Munjan district. He said two Afghan men were found dead along with eight others – three women and five men – whose nationalities were later disclosed as 6 Americans, a German and a British citizen, Dr. Karen Woo. One Afghan translator managed to escape the killing. All money and valuable things were stolen. It was unclear what the group was doing in the forested area away from main routes through the province.
Villagers reported seeing foreigners travelling in four-wheeled drive vehicles in the area about 15 days ago, Kemtuz said. About two days ago, villagers told police that they saw the vehicles abandoned and search crews were sent to the area to investigate, he said.
In Eastern Afghanistan, a candidate in next month's parliamentary elections, who was kidnapped by insurgents, was found dead on Friday along a road in Ghazni province. Also in the east, 12 Afghan civilians and a NATO service member were killed by roadside bombs (see – Nangarhar 08.05.10).
The region was a stronghold of the non-Pashtu Northern Alliance prior to operation Absolute Justice, in 12/2001, and the Taliban has no foothold in the region. Despite that the Taliban, on Saturday 08/07/2010 noon, took responsibility on the carnage accusing them of being "Christian missionaries".

"Yesterday at around 8am, one of our patrols confronted a group of foreigners. They were Christian missionaries and we killed them all," Zabihulla Mujahed, a spokesman for the Taliban movement, said. 
* Related topics –





08/2010 -KANDAHAR AIR BASE ATTACKED








***************************