– BRAHIM BENMERZOUGA & BAGHDAD MEZIANE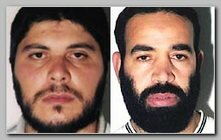 Brahim Benmerzouga [L], born in Algeria in 1972, and Baghdad Meziane [R], born in Algeria in 1965, where living in Leicester, UK after they fled Algerian in the mid 90s'. Baghdad Meziane filed official request for political asylum in Britain. They were arrested on 09/25/2001 with the Franco-Algerian terrorist suspect Kamel Daoudi, following The 9/11 for alleged ties to Al Qaeda and for helping to finance the organization. They were a part of Jamel Beghal's network in Europe. According to the indictment Brahim Benmerzouga and Baghdad Meziane  planned to make money, equipment and propaganda material available to Islamic extremists, Leicester Crown Court heard during the eight-week trial in March-April 2003.
Brahim Benmerzouga did admit one charge of conspiracy to defraud by manufacturing or using false bank cards and account details, as well as three charges of possessing false passports. Baghdad Meziane denied conspiracy to defraud but pleaded guilty to possessing one false passport in the name of Cyril Jacob. 
The two Algerians were linked to a network of people across Europe sharing similar interests in Islamic extremism, Mr Mark Ellison, the prosecutor, said. Mr Ellison said the defendants obtained a large collection of "shocking and heavily religious" videos, including 19 copies of a film devoted to Osama Bin Laden's speeches.  
Brahim Benmerzouga and Baghdad Meziane were both jailed, on 04/01/2003,for 11 years imprisonment. 
* Related topics – 
PROFILE -AEROUBI BEANDALIS

 

  
***********************
 Read more ;