5 SUSPECTS RELATED TO ABU BAKAR BASHIR ARRESTED
5 ALLEGED JIHADISTS ARRESTED IN WEST JAVA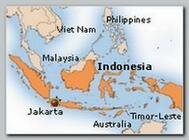 Indonesia's counterterrorism squad arrested five terrorist suspects in West Java, South of Jakarta the capital, a local police chief said on Sunday 08/08/2010, a day after the country's president said he had received reports that certain groups in areas of the province intended to do him harm.
West Java police chief Inspector General Sutarman said police also confiscated high explosive materials during four separate raids on Saturday 08/07/2010 in the province's capital, Bandung, and Subang district.
On Saturday, President Susilo Bambang Yudhoyono, who was visiting Bandung, said he had received reports that certain groups in the province intended to do him harm. He did not elaborate, or refer to the arrests.
On Sunday, his spokesman, Julian Aldrin Pasha, did not rule out that the suspects' alleged target was the president. 'It could be assumed that their activities were aimed at (attacking) the presidential entourage,' Mr Pasha said.
Inspector General Sutarman said two suspects were arrested by the special anti-terror force in Sukaluyu hamlet on the outskirts of Bandung.
Bomb squads had to detonate a bomb found within their house after failing to defuse it, Inspector General Sutarman said. One suspect managed to escape. Two others were arrested in Cilenyi and Padalarang districts, also on the outskirts of Bandung, Inspector General Sutarman said, adding that the fifth suspect was arrested in a raid on his house in Subang district.
In May, police said they foiled a plot to assassinate the president and other top officials in Mumbai-style terrorist attacks focused on the 08/17/2009 Independence Day ceremony (see -Jakarta Hotels Bombing).
In August 2009, police said they had evidence of a plan to assassinate Mr Yudhoyono by detonating a car bomb close to his motorcade. Indonesia, the world's most populous Muslim nation, has battled Islamist militants with links to the Southeast Asian network INDONESIAN JI since the Bali '02 Bombings that killed 202 people, most of them foreign tourists.
Indonesia has been carrying out massive hunt against the remnants of terror group members following the death of Noordin Mohammed Top, leader of a terrorist group.
* On Monday 08/09/2010, the Indonesian police arrested the former spiritual leader of the INDONESIAN JI, Abu Bakar Bashir,
was released from Indonesian jail on 06/14/2006
,
for alleged involvement with a new armed group.
In his last
sermon in Bandung, West Java,

 

in front of 500 followers, on Friday 08/06/2010, Abu Bakar Bashir called

 

for Indonesia to become an Islamic
state.
Along with Bashir police also detained his wife, Aisyah Baradja, and five of his bodyguards, who attempted to resist the arrest. Also arrested was Muslihah Sungkar, the daughter of the late radical cleric Abdullah Sungkar and the wife of the Al Mukmin Islamic boarding school's president director, Wahyuddin. Aisyah and Muslihah were later released.
According to Ansyaad Mbai, head of a government anti-terror desk, on Wednesday 08/11/2010, the main targets of the suspects was the national police headquarters "because they conducted surveillance and took photos of the building," he said.
Ansyaad Mbai also said Abu Bakar Bashir was arrested for playing a key role in the establishment of a militant training camp in Indonesia's Aceh region (see -Banda Aceh 02.23.10). 
* Related topics –





06/2010 -BAHARUDIN LATIF ON TRIAL IN JAJARTA






06/2010 -ABDULLAH SONATA CAPTURED IN INDONESIA






06/2010 -AMIR ABDILLAH JAILED FOR 8 YEARS IN INODNESIA 
***********************