– TAIBA MOSQUE IN HAMBURG, LINKED TO 9/11, CLOSED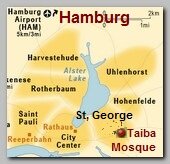 German police, on Monday 08/09/2010, closed the Taiba mosque, known up to 2008 as the Al-Quds Mosque, that was led in 1999 by Mohamed Fizazi and had been a meeting place for Hamburg Cell and The 9/11 conspirators in 2001. The cultural association that runs the mosque has also been banned. They believe the Mosque continued to promote Global Jihad and may have been a staging site for Islamist extremists living in Germany who have traveled to Afghanistan and Pakistan to participate in militant camps. 
"We have closed the mosque because it was a recruiting and meeting point for Islamic radicals who wanted to participate in so-called jihad or holy war," said Frank Reschreiter, a spokesman for Hamburg's state interior ministry. 
The city said the Taiba mosque had been closed in response to a ban that had been applied to the Arab cultural association which ran it, called the Arab-German Cultural Association. 
A German intelligence report in 2009 said radical Muslims had travelled to military training camps in Uzbekistan after associating at the Taiba mosque. The Taiba mosque had again become the "center of attraction for the jihad scene" the report said. A group of 11 militants that traveled to military training camps in Uzbekistan in March 2009 was formed at Taiba mosque, the report said. Most of the group's members, around 45, were either German converts, of Middle Eastern origin or from the Caucasus region.
The city said it would provide further details at a press conference to take place later in the day, but news agency Agence France Presse is reporting that the organization had been accused of recruiting Jihadists in Germany. 
Twenty police and several undercover investigators marched up to the building early on Monday morning and removed the locks using a drill. "The investigators are searching the Mosque for further evidence and are seizing computers and other equipment," a spokesperson said. 
Investigators believe that Taiba mosque was the base used in the past year by a group of 10 Hamburg-base jihadists who traveled to Pakistan or Afghanistan, purportedly to participate in military training camps. They claim that at least one of those men later became a part of the Islamic Movement of Uzbekistan -IMU terrorist group in Pakistan.

Authorities also denounced as a "hate preacher" one of the mosque's imams, German-Syrian national Mamoun Darkazanli.
A German Islamic radical held by American forces in Afghanistan has revealed details of planned terror attacks in Germany and other European countries, Der Spiegel weekly reported on Saturday 09/04/2010.
The
USA
believes that the detainee, a 36-year-old from Hamburg,
is a "major source" of information on future attacks, the news magazine reported. According to the Der Spiegel, the detainee, identified only as
Ahmad S.
, was part of the Islamic Movement of Uzbekistan -IMU. He travelled to Peshawar in Pakistan in 03/2009 before heading to the Afghan border.
Ahmad s. often drove the father of Mounir el Motassadeq to jail visits with Motassadeq who was sentenced in 2007 to 15 years. Like Motassadeq, Ahmad S. also worked at the Hamburg airport, where he did cleaning work on aircraft. He was acquainted with another Islamist from Hamburg, the German-Syrian Rami M. Makanesi (see -Rami Cell ).   
* Related topics – 
2009 – A NEW FOOTAGE THREATENS GERMANY 

PROFILE – CHRISTIAN MANFRED GANCZARSKI  

PROFILE -DENIS MAMADOU CUSPERT – ABU MALEEQ

 
**********************
Read more ; 
HINDU.COM