CONTROVERSIAL TRIAL
THE CONTROVERSIAL TRIAL OF OMAR KHADR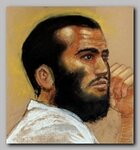 The first military commission trial of the Obama administration, the most controversial trial of the Canadian citizen Omar Khadr, is set to get under way in Guantanamo, scheduled to start on Tuesday 08/10/2010 (see -Holder's NY Decision). Omar Khadr is the only Westerner still being held at this military prison and the youngest of 176 men held nowadays at Guantanamo.
Omar Khadr, the son of Ahmed Said Khadr who raised his sons in Pakistan and Afghanistan to be devoted radical Muslims and potential terrorists, was caught in Afghanistan in 07/2002 after a four hours battle in Afghanistan. Sgt Christopher Speer from Delta force was killed by a grenade thrown by Omar Khadr and Layne Morris lost one of his eyes in the fight. Omar Khadr himself was wounded. After few weeks treatment at Bagram air base Omar Khadr was transferred, in 09/2002, to Guantanamo. Omar Khadr has often claimed he's been tortured in Guantanamo.
In a preliminary hearing the judge said the anonymous jury of U.S. military officers could see a video showing Omar Khadr, less then 16, helping a group of alleged al Qaeda operatives make and plant roadside explosives in Afghanistan.
The video was found in the bombed-out compound where Omar Khadr was captured and badly wounded. Prosecutors successfully argued that U.S. forces found it independently several weeks after the battle, and did not rely on information obtained from Khadr's interrogators.
But by all means no civilians were involved or threatened by Omar Khadr and the event cannot be defined as a terror act. USA argued Omar Khadr isn't a soldier and Al Qaeda isn't an army.
In a letter to his lawyer Major Jon Jackson dated May 27, 2010, Omar Khadr wrote, "I have an obligation to show the world what is going on down here, it seems that we have done everything but the world doesn't get it so it might work if the world sees the USA sentencing a child to life in prison". Omar Khadr's Canadian lawyer, Dennis Edney, said the tribunal was rigged to convict and that the U.S. and Canadian governments would use his inevitable conviction as proof that Khadr deserved abuse.
His eldest brother, Abdullah Khadr spent five years in prison fighting an extradition request by the USA on terrorism charges and was released last week.
Omar Khadr admitted, on Monday 10/25/2010, to throwing grenade that killed US soldier in Afghanistan when he was 15 years old. He was sentenced, on Sunday 10/31/2010, to 40 years in jail but will serve only 8 years because of being under age at the time of the alleged crime. 

 
* Omar Khadr was transferred from Guantanamo to Canada, on Saturday 09/29/2012, to finish his 8 years jail term in Canadian prison.
* Related topics – 





02/2010 -4 GITMO DETAINEES TRANSFERRED TO EUROPE






08/2008 -AAFIA SIDDIQUI ARRESTED IN AFGHANISTAN






06/2008 -U.S SUPREME COURT RULED GITMO DETAINEES CAN APEAL 





**********************