7 KILLED IN NORTHWEST CHINA TERROR ATTACK
7 KILLED IN NORTHWEST CHINA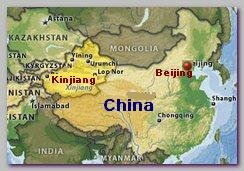 Seven people have been killed, on Thursday 08/19/2010, in an explosion in Xinjiang province, Western China.
Officials said an ethnic Uighur drove a three-wheeled vehicle loaded with explosives into a crowd of people in the country's far west Xinjiang region on Thursday. The blast, in a suburb of Aksu City, left another 14 people injured, some in serious condition.
"Police say it was an intentional act because the suspect was carrying explosive devices," Hou Hanmin, a spokeswoman for the Xinjiang government, said.
Authorities said that the assailant was injured in the explosion and captured immediately, though they did not say whether the suspect was a man or a woman.
"The other thing that we are getting is that all of the dead and injured are ethnic minorities. In other words, no one of Han Chinese ethnicity was hurt or killed in the incident. "So it is unclear at the moment what the intentions were."
Xinjiang has suffered ethnic conflict and separatist violence in the past. Last July, minority Turkic Muslim Uighurs and China's majority Han clashed in ethnic riots, leaving nearly 200 people dead (see – Urumki Riots). Hundreds of people were arrested following the riots and about two dozen were sentenced to death.
Human rights groups have complained that many other Uighurs remain unaccounted for, believed to be in custody (see – Hijacked Rights). The government has said that it is continuing to fight separatist forces in the region.
* Related topics –
*********************