– EAST TURKISTAN ISLAMIC PARTY – ETIP
–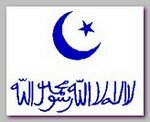 * East Turkistan Islamic Party – ETIP is an Islamic militant group merged in the late 90s' from the ethnic Uyghur of Xinjiang province in North-West China, also known as Turkestan, where the local 7 millions Uyghur became a minority in their own region due to massive Chinese immigration encouraged by the Chinese authorities.
East Turkistan Islamic Party – ETIP is seeking to create an independent state out of China's heavily Muslim Xinjiang province and was led by its founder Hasan Mahsum, who was killed by the Pakistani Army, not far from the border with Xinjiang in China, on 10/02/2003. The Chinese authorities blame East Turkistan Islamic Party – ETIP for several car bombs attacks in Xinjiang in the late 90s' and also for the death of a Chinese diplomat in Kyrgyzstan in 2002. 
East Turkistan Islamic Party – ETIP is defined as a terror organization by China, USA, UK, Kazakhstan and Pakistan. It is known that Hasan Mahsum met in 1999 with Osama Bin Laden in Afghanistan. Some two dozens Uyghur are detained in Guantanamo as Enemy Combatants were handed over to USA by Kazakhstan, Afghanistan and Pakistan through Extraordinary Rendition program. USA say that intelligence reports indicate that East Turkistan Islamic Party – ETIP was supported by Al Qaeda up to 2005.  
The organization increased its terror attacks in the time prior to the 08/08/2008 Beijing Olympic Games (see – ETIP 2008 attacks list) in order to draw attention to the Uyghur's cause, including the deadly Kashgar Attack. Today the organization is led by a man who uses the nickname Seyfullah – Sword of God.
Despite using Islamic motives by the East Turkistan Islamic Party – ETIP announcements, it is hard to claim that ETIP  is part of the Global Jihad against non-believers. The conflict in Xinjiang is a local Ethnic conflict rather then a part of the world wide Global Jihad.
* Related topic-
– 
********* ***********
Read more ;