– CHINA DISMANTELED 7 TERROR CELLS
–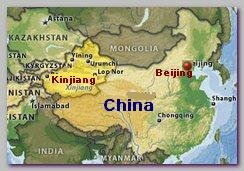 Chinese police have smashed seven terror cells so far this year in the country's predominantly Muslim far-western region of Xinjiang, state media reported on Wednesday 06/03/2009.
The China Daily said the cells were uncovered in Kashgar, China's westernmost city and a key centre of culture for Uighurs, the Muslim ethnic group that has long bridled under Chinese rule. No further details about the cells were given by the newspaper, which attributed the information to Zhang Jian, the city's Communist Party chief.
But it quoted Zhang as saying the region faced an ongoing threat from terrorists who "remote control" local operatives from abroad via the Internet. "Now the battle against terror has extended to the virtual world as the terrorists use the Internet as their tool to spread their radical ideas," he said.
China has long claimed it faces a deadly threat from the East Turkistan Islamic Party – [ETIP] separatists as justification for extremely tight controls in Xinjiang, a region of vast deserts and towering mountains that borders central Asia. However, Uighur exile groups accuse Beijing of inflating the threat as an excuse to suppress their culture and ethnic identity.
Xinjiang is home to about eight million Uighurs, a Turkic ethnic group. Zhang was quoted as saying Kashgar, an ancient Silk Road trading post, has seen 350 attacks resulting in the deaths of 60 government officials and civilians "since the 1990s."
In 04/2009, China executed two Uighur men in Kashgar for what it calls a "terrorist" attack last August in the city aimed at sabotaging the Olympics and that left 17 policemen dead, state media reported (see – Kashgar Attack ).
China arrested almost 1,300 people for terrorism, religious extremism or other state security charges in the region last year, state media reported in January.
Rebiya Kadeer, the Washington-based leader of the world's Uighurs in exile, said China made the allegations "without producing the slightest piece of evidence."
* Related topics –  
–
08/2008 -3 KILLED IN XINJIANG, CHINA
****************************************
Read more ; 
–