– THE REAL FACE OF FIRAS AL-RAWI
–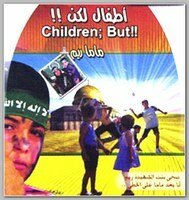 * Firas al-Rawi, 40, a Syrian citizen and former chairman of Leeds biggest Mosque, owned a company linked to a DVD that glorified suicide bombings targeting Israelis. The singalong video, emerged in late 2007, showed a young girl vowing to follow the same path in life as her mother, allegedly  blew herself up at an Israeli army checkpoint.
Firas al-Rawi has since moved to Kuwait from Britain, is understood to have been arrested on suspicion of stirring up racial hatred . Firas all-Rawi ran Abrar bookshop in Leeds in 2007 and was the sole owner of import company Abrar International.
The Arabic DVD, which has English subtitles, was purchased by a child at a Mosque in Bradford in 2007. Their grandfather passed it on to his local MP, Tory Philip Davies. A copy was then given to the police's North East Counter Terrorism Unit, leading to al-Rawi's arrest.
Firas al-Rawi was bailed two months later and the Crown Prosecution Service took the decision not to charge him because there was insufficient evidence of wrongdoing.
In the DVD an Arab woman is seen playing with her two children. She then makes a bomb out of sticks of dynamite in the bedroom as her young daughter enters. The woman leaves home with dynamite tucked into her dress and blows herself up after being challenged by Israeli soldiers, leaving her children and husband to learn of her death on TV.
To the sounds of haunting music there are graveyard scenes, along with pictures of the dead bomber looking serene and dressed in white. Her daughter finds a stick of dynamite in her mother's wardrobe. The girl, aged about five or six, turns to the camera with the subtitles: 'My love will not be by words. I will follow my mother's steps.'
The second song, entitled Tear, has a catchy chorus of children chanting a song set to images of women and children crying and flames from explosions.
Over scenes of men fighting and throwing grenades, a young Arab girl sings: 'Daddy return to us, We want you beside us, Fear occupied our hearts, And there is no one with us, Oh Allah! You are our Saviour…'
Local Muslims also raised fears that Leeds Grand Mosque has been 'hijacked by the Muslim Brotherhood against the will of the congregation'.
They told The Times that 'extremists' from Iraq, Syria and Egypt had sidelined moderate Muslims at the mosque.
Leeds Grand Mosque said it was not dominated by extremists and was run 'legitimately and according to best practice'.
Related topics :
11/2008 – U.K'S GROWING THREAT 
04/2008 – LEEDS CELL ON TRIAL IN U.K  
2008 – PROFILE ; SHEIK ABDULLAH EL-FAISAL 
PROFILE – NOMAN BENOTMAN  
LONDONSTAN
——————–
Read more ;