– 3 BRADFORD SISTERS & 9 CHILDREN HEADING TO JOIN ISIS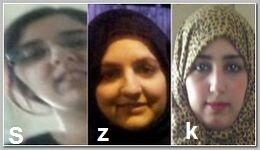 The 3 Dawood sisters from Bradford are feared to have travelled to Syria with their nine children after going on a pilgrimage to Saudi Arabia. The Dawood sisters left UK on 05/28/2015.
The sisters and their children, aged between 3 and 15, were due back in the UK on Thursday 06/16/2015, 'Khan Solicitors' said on behalf of the family.
Ten are thought to have boarded a flight to Istanbul in Turkey on 06/09/2015.
Lawyer Balaal Khan confirmed concerns about them "travelling to Syria". West Yorkshire Police is investigating.
There has been no contact since 06/09/2015 from mother-of-two Khadija Dawood (k), 30, mother-of-five Sugra Dawood (s), 34, and mother-of-two Zohra Dawood (z), 33, after they left Medina in Saudi Arabia.
Their mobile telephones have not been active and their social media profiles have not been updated since then.
Police believe they may have followed in the footsteps of their brother, who travelled to Syria to fight for ISIS two years ago. A family friend revealed the sisters had been under surveillance for a 'long period' after their brother went to Syria around two years ago (see – WESTERN JIHADISTS ).
The three Bradford's Dawood sisters and their nine children split into two groups to cross the border From Turkey into Syria, an Islamic State smuggler has told the BBC, on 06/19/2015.
Related topics : 
04/2015 – TURKEY HELD BRITISH FAMILY HEADING TO ISIS 
03/2015 – 9 BRITISH STUDENTS 'HEADING' TO ISIS  
02/2015 – 3 MORE BRITISH TEEN GIRLS TRAVELED TO SYRIA  
2007 – ANIS ABID SARDAR – A BRITISH BOMBER IN IRAQ
*********************
Read more ; 
BBC NEWS  
THEGUARDIAN
MORE BBC NEWS