– MOURAD GHARSALLI AMONG 5 MILITANTS KILLED IN TUNISIA
–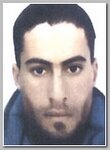 * Mourad Gharsalli a senior leader of a MAGHREB al-Qaeda affiliated group that has been blamed for a spate of violence in Tunisia was among five militants killed by security forces in a recent raid, in Gafsa mountain operation. on Friday 07/09/2015, an official said Saturday. The five were on the verge of carrying out another terrorist attack on holidaymakers in Tunisia and triggered a British allert to all its citizens to leave Tunisia immediately .
"The DNA test just confirmed that Mourad Gharsalli was shot dead yesterday (Friday)," presidential spokesman Moez Sinaoui wrote in a post on his Twitter account.
Mourad Gharsalli, a 32-year-old Tunisian, was one of the leaders of the Okba Ibn Nafaa Brigades, the country's main militant group and one the authorities have accused of being behind several recent attacks.
Authorities have blamed the group for a series of attacks, including the March massacre at the Bardo National Museum in Tunis that killed 21 foreign tourists and a policeman although the Islamic State of Iraq and Syria (ISIS) group has claimed that attack.
Tunisia has seen a surge in radical Islam since the Jasmine 2011 revolution. Dozens of members of the security forces have been killed since then in jihadist attacks.
Related topics ; 
06/2015 – 2 SOUSSE SHOOTER'S ACCOMPLICES WANTED IN TUNISIA  
06/2015 – 10 TUNISIAN STAFF SEIZED IN TRIPOLI, LIBYA
09/2013 – ANSAR AL-SHARIA IN TUNISIA   
03/2012 – THOUSANDS RALLY FOR "SHARIAA LAW" IN TUNISIA  
—————————-
Read more ; 
ALARABIYA
BBC NEWS
BUISNESSNEWS
http://www.express.co.uk/news/world/590072/British-nationals-told-to-LEAVE-Tunisia-over-fears-of-more-terror-attacks